Courtney Baird is finally gearing to open her store in Beaufort, North Carolina, after a difficult past year and a half. Baird was supposed to take over ownership of Tidal Treasures in January 2020 along with her business partner Brian Kennedy.
She was managing the Tidal Treasures during the transition, selling off the stores inventory before reopening under her and Kennedy's ownership. They were planning to rename it Two Twenty Two because of its location on 222 Front St. But unfortunately, a fire on Dec. 22, 2019 destroyed the entire building where the store was located.
The building was located partially over the water with a floating porch on the back. It also housed a bakery, a restaurant and apartments. The fire originated on a pylon underneath the building and firefighters had difficulty accessing the pylon to extinguish the fire. They had to send a boat underneath the building to put the fire out. By the time they got it out, nothing was salvageable and the building had to be bulldozed.
"The reality had set in that I had just lost everything. And I thought where do I start to rebuild?" recalls Baird.
Baird describes Beaufort as a small waterfront community with about three blocks of shopping and restaurants on the water. It is a deliberate destination spot because it is not right off the highway, she explains. It is a big boating town and nearby Atlantic Beach is a big draw. After the fire, Baird says people in the community helped those affected.
"Another jeweler in the area that was retired gave me some of her tools and just everybody came together. It was awesome," says Baird, who designs jewelry under the brand Courtney Lynn Designs.
It took a little while to find another location for the store. But on March 15, Baird and Kennedy signed a new lease on store space.
"We found a new spot about two blocks down. The new address is 400 Front St." says Baird.
The store also has a different name.
"We changed the name to Bimini Twist like the fishing knot so it can follow us around since Two Twenty Two was really significant to the last address."
The building recently came under new ownership and just signed on a new restaurant to a long-term lease, according to Baird. An ice cream shop and a T-shirt shop are also located in the building.
"Then there was this little space that they thought was too small to rent out, but it's kind of perfect for me," says Baird.
The space is only 250 square feet and she describes it as sandwiched in between the T-shirt shop and the ice cream shop.
Even with COVID-19 still a factor in tourism in the area, Baird is optimistic about the new store.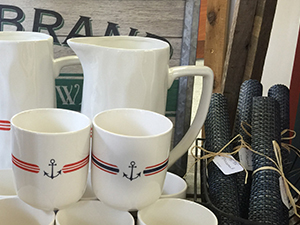 "It's so different than any other year," she says about tourism in Beaufort. "Normally in our town, January and February is like crickets it is so quiet. But this year because of COVID, people who have their second homes there all moved down, so it's been busier this off-season than we have been in the past."
Not only are these seasonal residents staying in the area, they are spending money, according to Baird.
"We are featuring my stuff but then also bringing in other artists' creations," she says.
Pottery, housewares, sand art, other jewelry and men's gifts will be among the offerings. Baird wanted to offer some men's gifts because she recognized a void in that area among other stores in Beaufort.
"We definitely nod towards nautical and beachy but definitely more nautical," Baird describers of the store's style.
Being in a small town, Baird says, "We have to try to be special and buy merchandise that no one else buys."
When Baird goes to markets she'll even ask vendors, "Did anyone from Beaufort buy from you today?"
Baird has carried her jewelry in other stores, but this is the first time she will own a store. When she first started creating jewelry her styles used a lot of pearls and sterling silver and were geared toward a younger audience. But since she moved to Beaufort from New York City five years ago and has had large displays to fill with her jewelry, she now does a little bit of everything. Before moving to Beaufort, Baird was a visual display merchandiser for Saks Fifth Ave., Macy's and Bloomingdales, all the while making her jewelry as a hobby.
"It was one of those things that when I came home it would kind of relax me, and then I was able to get it to a point where I could live off of it," she says.
The new store will open sometime in May. Preparations for the new store began as soon as Kennedy and Baird signed the lease in March. That included starting the electrical, putting in drywall and laying the floor.
"We're going to hand build our own shelving. Most of my cases for my jewelry are handmade," says Baird. "A lot of the other items we'll display on a cute little desk or old ovens, things from the 1920s — we try to be a little interesting that way.
Baird is relieved that she found this new store location. "It was such a sore spot for a while and now I see a huge light at the end of the tunnel."