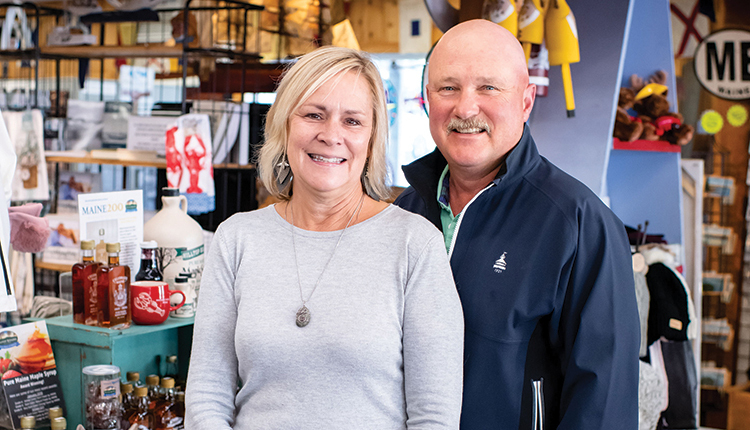 Mark and Dianne Gimbel were no strangers to retail when they opened Windjammer Emporium in Boothbay Harbor, Maine, in 2019.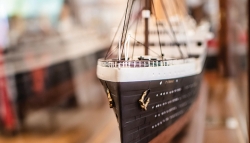 Related Article:
Find out how the Gimbels have learned about running a museum inside a retail store in the article "
History Lessons
."
For more than three decades, the couple has owned stores in the popular seaside town.
It was only when a long-time competitor decided to move out of a prime location on the pier did the stars align for the couple's latest vision.
"Sometimes when you are in retail and it seems like a market is saturated, one of the things you have to do is rethink what you are going to do to stand out from the others," explains Mark Gimbel.
The Gimbels wanted to do something different alright. They also didn't want to compete with their existing stores. It was always a dream of theirs to incorporate a local maritime museum into a store, and what better location than Pier 1 in Boothbay Harbor?
"As it turns out, it was a big hit because we really didn't have anything like that in our community," says Mark.
Attracting sales
The museum and store that make up Windjammer Emporium combined is 3,200 square feet. The museum takes up about 1,200 square feet of the space.
"I was hoping that the attraction would build enough additional foot traffic to make up for not having a third of the space being utilized for producing revenue," Mark says.
That first year, traffic at the museum brought in about 20% less business to the store than the Gimbels were hoping for, but word hadn't quite spread enough yet.
"Many locals didn't even realize we had this little museum in here," he says. But now that word is out, locals and visitors alike find the museum quite fascinating.
"Now when people have relatives and friends in from out of town, they are coming in specifically to see the museum and hopefully they make a purchase at the same time," says Mark.
Having the museum to drive business is particularly helpful during spring and fall, when the town isn't quite as busy with the vacation crowd. In 2019, Windjammer Emporium partnered with tour groups that come through the area.
"The museum would be included on the itinerary and the tours would come and walk through and hopefully buy some souvenirs," says Mark.
In 2019, these tours really added to the store's bottom line, contributing to about 25% of the store's business. That changed dramatically in 2020 since many tours stopped running due to the COVID-19 pandemic. Offsetting some of that loss though was the fact that many people decided to take later vacations in 2020. August, September and October 2020 sales were slightly better than the prior year, but Mark estimates November will be down 50% due to out-of-state traffic being prohibited due to spikes in COVID-19 cases.
Differentiating factors
It's not just the museum that differentiates Windjammer Emporium, it's also the merchandise. The Gimbels own three other stores in the area, The Smiling Cow, Gimbel's Country Store and Gretchen's Closet. The Smiling Cow carries tons of T-shirts, sweatshirts and basic souvenirs. The Gimbels didn't want that for their new venture, Windjammer Emporium.
"We went a step or more above that to carry more designer apparel that most regular retailers don't," explains Mark of Windjammer Emporium's merchandise. "Most of the vendors we have at Windjammer Emporium we do not have at The Smiling Cow or Gimbel's Country Store. They're unique."
When doing their buying for the new store, the Gimbels spent time at AmericasMart and Surf Expo looking for vendors that Mark describes as "fresher."
"We got lucky," he says. "We found a couple of European firms that were just coming into the U.S. We were able to build a rapport with them, and now we feature their products."
Windjammer Emporium became Spain-based Batela's largest customer in the U.S. It even prompted a visit by the company's general manager to the store.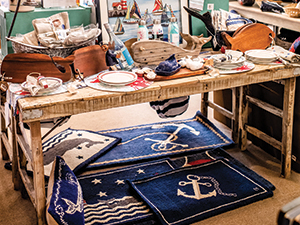 "They came to see us. We had some ideas and we brainstormed together because we want to see them do well. If they do well, we do well. It is a cool partnership," says Mark.
The first year in business the store's bestseller was from Batela. Gimbel describes it as "a fashion-oriented raincoat for women." It was offered in white and yellow.
"It was stunning and flattering. Everyone seemed to look good in it," says Mark. "That's what we call a homerun."
The store now carries a junior version of the raincoat that has little sailboats on the pockets and blue piping trim on the interior that lines the pockets and the cuffs.
Finding inspiration
The inside of the store has lots of wood displays that one might expect from outdoorsy Maine. The store obtained many of its furnishings thanks to a very recognizable national outdoor brand based in the state, L.L. Bean. The company had a home store that was being remodeled.
"They wanted to get rid of the fixtures because that part of the store was being turned into a call center," Mark says. "I went down there and essentially was able to outfit our store with high-end fixtures for not a lot of money."
L.L. Bean served as inspiration in other aspects of the store as well, particularly with impulse buys. Unlike T.J. Maxx' impulse buy displays, which Mark is also a fan of, L.L. Bean's are a little more deliberate, according to him.
"If you walk towards a register you have to walk through a range of impulse items. LL Bean does a far better job of featuring a more limited number of products but items that are key."
The Gimbels bought six full-size wooden barrels from L.L. Bean for the purpose of impulse buys. Each barrel is filled with different items that are easy to grab on the way to the register. One of the barrels always has the store's ever-popular Boothbay Harbor lobster keepsakes. Another barrel contains scented balsam pillows, and yet another holds round decoupage Boothbay Harbor Christmas ornaments made by Cape Shore in nearby Yarmouth, Maine.
"You can't walk up to the counter without seeing all six of these barrels," says Mark. "If you get one out of 10 customers buying something from these barrels, it works."
The Gimbels also try to stay on top of whatever the hot topics are nationally that customers might gravitate toward. A prime example was in 2020. A T-shirt from Beautease that was getting a lot of traction was dark gray with large navy blue lettering that simply said "2020 Sucks" on it.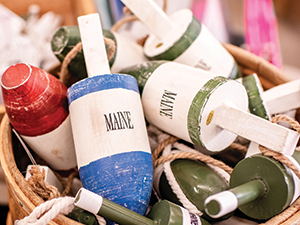 "I bet I sold 500 of them," says Mark.
Outerwear is a big deal at Windjammer Emporium, and for good reason. "Maine is generally known for weather that changes every five minutes," Mark explains. "We'll have bright sunshine and sunny skies and then all of a sudden boom, here comes a thunderstorm."
In addition to high-end fashionable raincoats for women and juniors, the store carries a $7 poncho that people going on whale watches like to snatch up just in case.
The store also carries what Mark describes as "a good quality, low-cost binocular" that is good for spotting seals, puffins and whales.
Sunglasses are another item that flies off the shelves. Goodr, a low-cost designer brand is quite popular. Other whale watching must-haves the store carries are sunscreen and of course Dramamine for seasickness. Customers can pick up a travel size at the counter.
Once the weather starts to get cooler, the store transitions to fall and winter coats, hats gloves, mittens and scarves.
Gifts and souvenirs are also abundant in the store. "We buy a lot of giftware from Chesapeake Bay Ltd. because they do a lot of name dropping," says Mark.
Windjammer Emporium sells quite a few of Swig Life's double-walled, insulated tumblers, water bottles and martini glasses. The store also supports brands that are Maine-based.
Windjammer Emporium gives away a canvas zipper bag with purchases over $50. The bag features a harbor scene of the mackerel fleet in 1900 and the store's logo. They also sell them for $4.95, but the store has given away a lot more than they've sold. Mark has noticed in 2020 that while the store received fewer customers, those that did come spent more.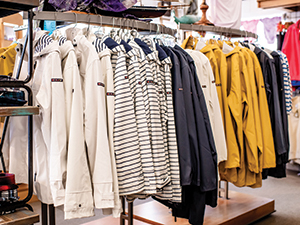 "Our average sale has probably gone up by 50%," he says. He attributes it to pent up demand. People weren't traveling from March through July. It wasn't until August that people from New York, New Jersey, Massachusetts and Rhode Island started coming back to the area. Mark also says the has pandemic caused people to want to treat themselves more, so they decide to splurge on something.
On- and off-seasons
Boothbay Harbor's busy season typically kicks off at the end of June with the start of the Windjammer Days Festival. The Gimbels serve as festival directors. The festival has been a 58-year tradition in the community though it was canceled in 2020 due to the pandemic.
"That's the real big kick off to our summer season and then usually the peak ends at Columbus Day or Indigenous People's day ... the second weekend in October," says Mark.
Most of the visitors to the store in 2020 came to the area by car.
"2020 was definitely driven strictly by New England states and New York and New Jersey," observes Mark. "In a non-COVID year we get a lot of people that fly in from California for the summer or people from Florida trying to escape the heat. In 2020 we saw very few of these people, but we did see more from Pennsylvania."
Some visitors come in October to view the fall foliage and owners of summer homes will sometimes come back for Thanksgiving or Christmas. These visitors also have some activities they can check out during the winter months including The Harbor Lights Festival and The Coastal Maine Botanical Gardens' Gardens Aglow event.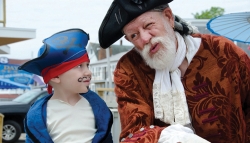 Related Article:
The owners Windjammer Emporium also organize Windjammer Days.
Read more
about Boothbay Harbor's biggest event.
Windjammer Emporium closes from December through April. The Gimbels spend this time in Hilton Head, South Carolina. Their winter residence makes traveling to winter buying shows extra convenient.
Hilton Head is about a four-hour drive to all the shows the Gimbels attend in December and January. Four hours to the north is The Grand Strand Gift and Resort Merchandise Show in Myrtle Beach; four hours to the south is Surf Expo in Orlando, Florida; and AmericasMart in Atlanta is four and a half hours to the northwest.
"The primary reason for us to attend those shows is that the other shows are held in the height of our season so there is no way we are getting to those," says Mark. About every three years, the Gimbels will go to Las Vegas so see what is available. They usually attend a show called Off Price Las Vegas, which was virtual in 2020.
All about business
Mark and Dianne try to keep their business responsibilities well defined.
"Working as a couple, it is best to differentiate roles," says Mark.
Dianne has a degree in accounting from Bentley University, so she manages the bookkeeping and scheduling. She also purchases the women's clothing and is heavily involved in general gift buying.
Both Mark and Dianne spend a lot of time in their various stores, and both have an eye for detail. "I'm always trying to fix what needs fixing," says Mark, "whether that be a display or restocking. Dianne does the same thing."
Mark says part of being a successful seaside retailer is to change your displays frequently. "Not only is it good for your customers, it is also good for your staff. If you can include them in that process, it gives them something to do other than merely cashing people out or restocking."
He also listens to employees' ideas surrounding sales and displays, which makes them feel a valued part of the store. That approach seems to be working as many seasonal employees continue to return to work year after year eager to contribute to the Gimbels' four stores.
Mark's father opened Gimbel's Country Store in 1971 and Mark started working there in high school and on college breaks. He decided it was what he wanted to do permanently and has been at it since 1984.
"I just seemed to like it," he says. "I like the challenge of buying what the customers want. I also want to see if we can improve upon the prior year even if it is minimal. There have only been a couple of years where we've gone down."
Even during recession times, he says, people still want to get away on vacation. "We don't see the highs and we don't see the lows, we just keep cruising along," says Mark of being a seaside retailer.