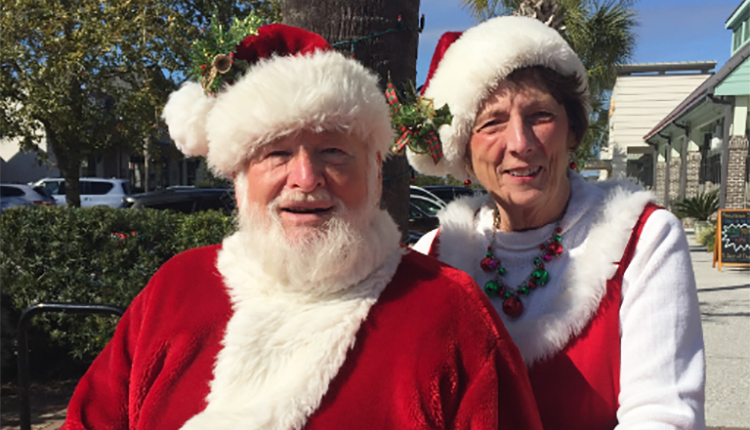 2020 is a year unlike any other as retail stores have had to adapt to new safety guidelines to help prevent the spread of COVID-19, and that includes modified holiday celebrations. When Shelter Cove Town Center in Hilton Head, South Carolina, decided to cancel its annual lights and Santa this year, one of the center's tenants, Artware Designs decided it could safely provide Christmas cheer.
Artware Designs offers a variety of gifts and art pieces, many of which are coastal themed. Owner Jennifer Megliore says when she found out about the shopping center's cancellation of its Christmas festivities, she wanted to do something.
"A year without Santa? We just couldn't let that happen," she says. "Our center graciously allowed us to take on the liability and host Santa and Mrs. Claus."
The store took the following measures to help with safe visits:


Mr. and Mrs. Claus wear full frontal face shields
Festive garland ensures a 6-foot social distance but still allows children to share their Christmas wishes with Santa.
An elf assists Mr. and Mrs. Claus, helps take photos, uses hand sanitizer and ensures social distancing from the waiting families.
The line is structured to space people 6 feet apart on the brick boarder to the sidewalks so as not to block traffic flow.
No treats or handouts will be given this year.
Hand sanitizer will be available for all.
Santa and Mrs. Claus are wearing a special face shield called a Z-Shield Wrap that are supported by the chest and tucked into their costumes.
Santa and Mrs. Claus made their debut Saturday, Dec. 5 and will also be available Saturday, Dec. 12 and 19 from 5 to 7 p.m.
Joe and Susan Patton, Megliore's parents, are playing the role of Santa and Mrs. Claus. And Maddie, the store's furry, four-legged mascot sits in Santa's lap.