Raising the bar
Caroline Ranoia is no stranger to the trials and tribulations of both life and store ownership. Her never-give-up attitude through those trying times has made her the successful owner of two stores in Stone Harbor, New Jersey, as well as a soap maker.
Blue Eden carries clothing, accessories, locally made sea glass jewelry and Ranoia's line of Just BE candles. Her handmade bath and body products are sold at her other store, Sea Foam Soap Co., located next door. The stores have a calm, spa-like vibe.
"It isn't about what you do to make a living, it's how you live with what you do, and to me that means giving back when and if I can."
— Caroline Ranoia
While things are going well for her businesses now, it hasn't always been easy for Ranoia. Over the years she endured a difficult divorce, the death of her father and losing a store to the floodwaters of Hurricane Sandy. These experiences have helped shape the resilient woman she is today.
Pet project. Helping her get through those tough times was her Jack Russel Terrier named Jack. He would come to the shop with Ranoia each day and even developed his own following. Customers would come in just to see him.
"He was such an important piece to my puzzle that I decided to start donating to a local shelter," says Ranoia. "Jack passed away in 2016 and is still so missed."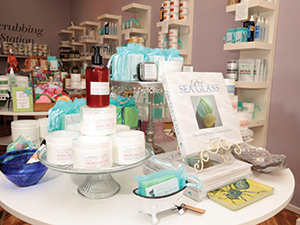 Photos: Edward Lea
In honor of Jack, Ranoia now hosts a "Raise the Bar for Jack Challenge" every year on March 16 at her stores. A percentage of every bar of soap sold is donated to Animal Outreach of Cape May.
Ranoia also partnered with The Inn at Leola Village in Pennsylvania to create a line of soaps in honor of the inn's resident blind cat, Josie. All the sales from the soaps are donated to The Lancaster County Pet Pantry, a pet food bank that helps people going through tough financial times with the means to feed their pet, take them to the vet and receive medical attention.
Showing appreciation. Other charities Ranoia supports through her businesses are Twisted Fate Farm, American Society for the Prevention of Cruelty to Animals, Habitat for Humanity and Wounded Warrior Project.
"It is important for me to give back where I can," says Ranoia. "Being down on your luck makes you appreciate the hard work and efforts of others every day."