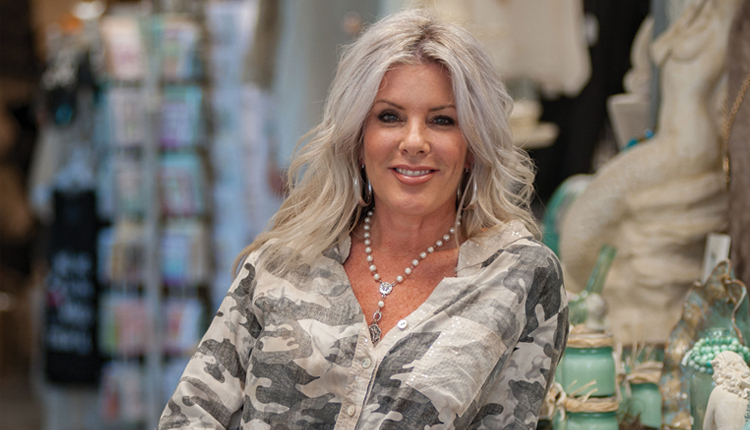 Photo: Lori Sax
The saying the apple doesn't fall far from the tree could not be truer for Ashley Louda. The co-owner of two Florida stores — Sirene Coastal Interiors in Venice and Gypsea Soul in Bradenton — comes from a long line of artists and business owners.
She didn't need a formal business education to understand what it takes to run one.
"I learned what I lived," she said. "We had art stores, we had furniture stores, and everybody is artistic. Everybody does or makes something," she said of her family.
At age 16, Louda moved from Pittsburgh to Florida, where her Paris-born grandmother was making a living as an artist, making items out of seashells. She began working alongside her grandmother, making seashell art.
When her grandmother passed away, Louda took a hiatus from art, but her daughter's birth reignited her interest.
"When my daughter was small, we'd be on the beach picking up seashells, and after a while they kind of overtook my life," she said.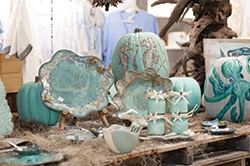 She decided to pick up with her artwork again, creating shell mirrors and chandeliers. Through her art, she became good friends with a local store owner, Valerie Bittle Doss, who bought art from her for her store.
It started out small. A few of Louda's items were sold in Bittle Doss' store. Then Louda's work became an entire section of the store. The two got to talking, and Bittle Doss said she was interested in opening another store with Louda.
An excellent spot became available on the main drag of Venice, and Louda said, "We just decided to do it."
Louda's grandmother was the inspiration for the store's name: Sirene Coastal Interiors. "Sirene" (pronounced suh-ren') is French for mermaid.
That whim to open a store blossomed into something far greater than Louda could have imagined. Sirene Coastal has been a staple in downtown Venice for 14 years.
Going with the flow
The store has a rustic coastal look and a combination of offerings all its own. You won't find much of the merchandise offered here anywhere else.
"We deal with a lot of local talent," Louda said. "I love to bring in somebody that is creative and talented and give them a sense of direction. They'll come in, and they're making beautiful mermaids, and we'll tweak the colors and tweak the design so it fits onto our sales floor."
Making sure the artists' work fits with the store's style is important to maintaining the vibe. Because the 2,200-square-foot store has so much merchandise, the colors need to flow and the displays need to be well thought out, Louda said. Otherwise, it could start to look like a flea market, and she doesn't want that.
"We try to encourage the artists to make things that flow with what we've already got so that our stories make sense," Louda said. "I'm kind of uptight about color and making sure everything looks just so, but it works."
Louda also designs items for the store and prides herself in finding unique decorative pieces she can put a coastal spin on.
"I'm an old antiquer. I am always picking," she said. "If I find something old and funky, I want to reinvent it and turn it into something else. Valerie and I love to do that."
The duo also hits buying shows in Atlanta and attends Surf Expo. Louda is hoping to branch out in 2020 by checking out some other shows, such as Dallas Market Center.
When Sirene Coastal Interiors opened, Louda and Bittle Doss planned to focus on home goods and accessories, "but a lot of our business is tourists, and they want things that will go in their suitcase," Louda said.
To stay busy year-round, Sirene runs two types of inventory. In the winter, the focus is on merchandise that can either be shipped or fit into a suitcase. In the summer, the store serves the local population with home goods, furniture and larger items.
Competition is tough these days, as the landscape has changed both in Venice and in the retail sector overall. The city recently underwent a downtown renovation, and retail space is almost filled up.
At the same time, Amazon is making it easier for anyone to order anything at anytime anywhere. And it is more challenging to get wholesalers to provide product exclusivity. Even in cases where wholesalers will not allow another store in the same ZIP code to carry the same product, some stores find workarounds. For example, they order the product for a store in a different location.
"It's challenging," Louda said. "You really have to stay on your toes all the time, and you have to reinvent the wheel all the time too, but still have what the customer expects to see."
She doesn't change out the whole store all at once because customers will often come back for items and she doesn't want them to be disappointed.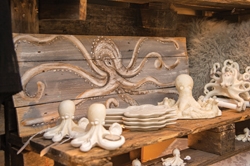 Mermaid craze
Sirene Coastal's most popular items are its mermaid-themed graphic T-shirts and tank tops. Louda recalls that when the store first opened, there was such a lack of mermaid merchandise available that she and other local artists had to make everything. But that also meant they had the market cornered.
"We used to be the only game in town. Now mermaids are kind of everywhere," she said.
Louda has no plans to stop selling the mythological sea dweller.
"They'll give it up, and we'll keep doing it," she said.
Repeat customers have been visiting the store since day one, Louda said. They say Sirene Coastal is their favorite store in Venice, and they return each year. They even bring friends to show them how amazing it is. That's all the reward Louda needs.
"It's so nice," she said. "It makes it worth it, because sometimes it can be a grind."
During the busy season, Sirene hires part-time help, but usually it is just Bittle Doss, Louda and Louda's daughter, Stevie. Her daughter has grown up in the business and handles a lot of the social media marketing. Yet, word of mouth and foot traffic are where most of their business comes from.
Business starts to pick up in October. "But January is when it gets crazy," Louda said. "January, February and March are ridiculously busy. Our population triples here in the season. It goes from peaceful to nuts."
April and May are also busy, and June is usually a good month but harder to forecast.
Summers have become busier during the past few years, as more people are living there year-round. That's one of the reasons Louda decided in to open a second store — this one in Bradenton, where she lives.
Branching out
When Louda moved from Venice to Bradenton a few years back, the commute to Sirene Coastal wasn't too bad. It took about 30 minutes. But as development and road construction boomed, so did the traffic. It was taking her an hour and a half each way.
Frustrated, she thought back to why she started the business in the first place. "It was because I make all kinds of stuff. I make jewelry, I also do shell work, and I needed something to do with it," she said.
So she leased space on the top floor of a two-story Victorian house — an iconic building located in the heart of Bradenton's downtown.
Louda's second store is a solo venture called Gypsea Soul. She describes it as a smaller version of Sirene Coastal that is geared more toward the local population. "I'm selling a lot more clothes and less touristy items," she said.
The house where Gypsea Soul is located was built in 1920 and has interesting old chandeliers and fixtures that mix with the coastal decor. The sign on the store says it all: Coastal, vintage, BoHo, glam. Amid all this is resort wear that reflects a "Stevie Nicks hippie-gypsy style" and handmade jewelry that adds sparkle to the store.
Gypsea Soul is so new that it hasn't experienced a full tourist season yet, but Louda's been told it will get busy.
The store has also been serving as a venue for creative workshops.
"We teach people how to do a lot of the things that we sell at the other store," Louda said. "We do shell mosaics and resin art. A lot of local people that create the designs are going to be our teachers.
"I'm really excited about this one. It is going to be a lot of fun."
----
GLASS CLASS
Gypsea Soul in Bradenton, Fla., isn't the only store where Ashley Louda plans to have art workshops. She's bringing her ideas for classes to her other store, Sirene Coastal in Venice, Fla.
The store has already started hosting glam glass workshops.
Also known as resin art, glam glass involves choosing an image and adding little pieces of beads, glitter and seashells as well as small personal items. The image is enclosed in resin that is poured onto the glass.
The class lasts approximately two hours, and Louda said, "People love it." ■
---
BLESSING IN DISGUISE
Sirene Coastal in Venice, Fla., has weathered many ups and downs through the years. The store opened during the Great Recession. Then came the Amazon boom, red tides and hurricanes. Still, the store has stayed afloat.
"So we've had to get creative in how we survive," co-owner Ashley Louda said.
March 2019 put the store to its greatest test yet. The building is more than 90 years old, and at one time it was used as a chocolate factory. Some of the plumbing from the factory was still in use. In the middle of the night, a coupling connecting the water supply to the old pipes failed, pushing 5,000 gallons of steaming hot water into the store.
"It went in the middle of the night, and no one was there to see it, so by the time we got in, we were under water," Louda said.
The store's floor and electrical system had to be replaced. Worst of all, the store had to be closed while repairs were made. Everything had to be emptied out of the building, and layers of carpet, tile and linoleum flooring were pried up and removed.
"It was a huge pain in the butt," Louda said.
But on the upside, Louda says, the new resin flooring is "just gorgeous." The waterproof flooring will also protect against any future flooding.
"The renovation took a little longer because I dug in and said, 'Whatever we do here, it is going to be an indestructible surface.' I don't ever want to go through this again," she said.
Contractors also added reclaimed barn wood to the walls.
"The store is gorgeous, and it needed to be done," Louda said, reflecting on the situation. "I wouldn't have voluntarily done it, but on the other side of it, it's a blessing."