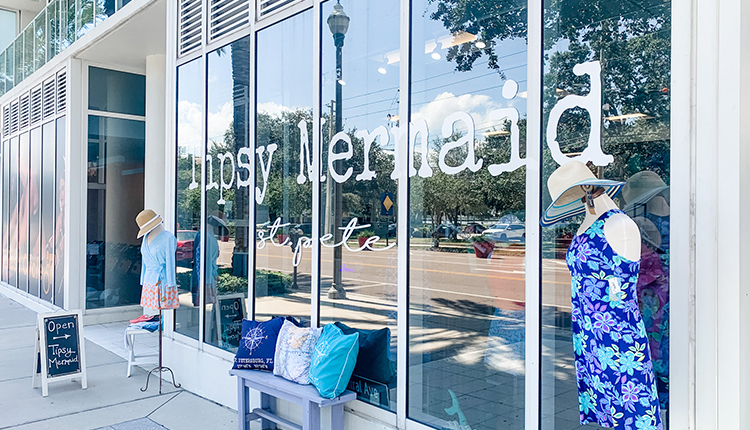 Tipsy Mermaid Mercantile has been a favorite destination for mermaid lovers in the Florida Gulf Coast town of Palm Harbor, and now the owners have expanded their coastal boutique to downtown St. Petersburg.
In February, Megan McIntyre and Charrell McLean became the new owners of Tipsy Mermaid Mercantile in Palm Harbor, Florida, and had always had expansion plans in the back of their mind so they could "share Tipsy Mermaid with the world," they say.
The flagship location in Palm Harbor is a go-to local hot spot for beautiful sun protection clothing, unique coastal decor and coastal-themed gifts for all occasions.
The St. Petersburg store opened Oct. 1 at 105 1st Street South with a grand opening celebration taking place Saturday, Oct. 10.
According to MacIntyre, "After looking at many locations and cities, our mermaids led us to St. Pete where we found the perfect location."
That perfect location didn't come without challenges, however. The first challenge was having to dip into personal savings because banks have not been lending money during the COVID-19 pandemic. The pandemic also created challenges with supplier partners as some are still under-staffed.
"We have planned extremely well to time the open with the suppliers so we could make sure the products arrived in time for opening. Having our amazing manufacturer partners in the U.S. helps tremendously as it is much harder to get items from overseas right now," says MacIntyre.
In addition to prepping to fill the boutique with beautiful coastal inspired merchandise, MacIntyre and McLean also had to build the vision for the store.
"When you walk into Tipsy Mermaid we want our customer to feel as if they just stepped into a cute, coastal beach home," says McLean.
They put their husbands to work to build the store's trademark shiplap walls and a new dressing room and to brighten the space with fresh paint. MacIntyre and McLean also have plans to partner with a local artist to create a mural as a feature wall that customers can admire while they shop.
"It has been a busy month as we've worked to balance the daily needs of Tipsy Mermaid Palm Harbor with the build-out of our new store, as well as maintain harmony with our families and home life," says McLean.
"We are excited and eager to meet our customers in St. Petersburg," McLean says. "We'd be lying if we didn't feel a little bit anxious to be taking the leap to expand during the trying times of COVID, but the good feelings definitely eclipse the anxiety and reassure us that we are doing the right thing."