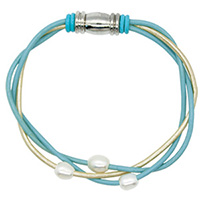 Leather cord bracelets are perfect for fashion minded gals and guys and are ideal for any season. Uses Italian leather cord and incorporates pearls to create a fashion statement just for you.

Leather Width: 3 strands of 2 mm leather cord

Three cords with color choices of blush, blue, cream, seafoam, brown or black. Customizable, choose the same color cord for each bracelet or one of each.