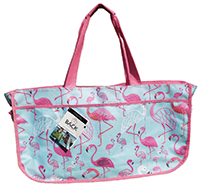 The FlaMazing Flamingo Oversize Beach Tote Bag by Back Chair Bag is a high-quality constructed durable Marine-Grade Beach, Pool, Camping Tote Bag that slides easily over the back of most outdoor chairs! Benefit! Stays off the ground!
The beach tote that slides over your beach chair keeps your beach and pool essentials dry and sand-free, and off the Ground. Pack and store everything you need for the pool, beach, or other activity. The oversized tote has five pockets and durable handles. Plus, the inside liner offers a contrasting look to the outside pattern.
Visit www.backchairbag.com for more information.