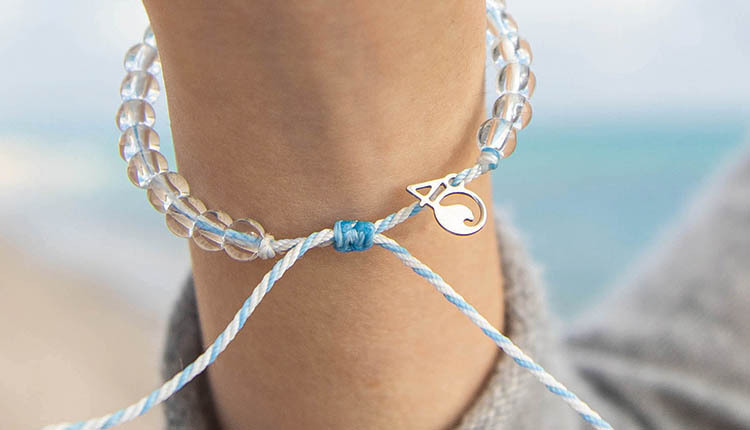 4Ocean, Boca Raton, Florida, has announced it has become one of a small group of companies working to advance important environmental, social and economic causes around the world with its recent B Corp certification. The company is known for its bracelets made of recycled materials to raise awareness about endangered marine life as well as its commitment to pull 1 pound of waste from the ocean for every bracelet sold. It recently hit a milestone of pulling more than 10 million pounds of plastic from the ocean since it began in 2017.
B Corps are for-profit companies that use the power of business to build a more inclusive, equitable, and sustainable economy for all people and the planet. This small but growing community is accelerating a global culture shift to redefine success in business, according to 4Ocean.
4Ocean was founded on the belief that business can be a force for good and that the actions of individual people, collectively, have the power to change the world.
A B Corp's goal is to create benefit for all stakeholders, not just shareholders, while meeting the highest verified standards of social and environmental performance, public transparency, and legal accountability. It is one of the only certifications that's not for a product or service, but for the company as a whole, which helps consumers identify companies with a mission that aligns with their values.
B Lab is the independent nonprofit that certifies companies as B Corps. Before any company becomes a B Corp, they must complete the B Impact Assessment, which requires them to document their positive impact so B Lab can assess the overall impact a company has on its workers, suppliers, community, and the environment. In order to maintain B Corp status, this rigorous certification process must be completed every three years.
4Ocean is also a Public Benefit Corp. (PBC), which is similar, but has some important differences. A PBC is a legal structure for business, like an LLC or corporation, which means the company is legally empowered to pursue positive stakeholder impact alongside profit.
The company says that as both a Certified B Corp and PCB, it remain committed to its mission of ending the ocean plastic crisis by:
Educating people about the ocean plastic crisis and empowering them to live a more ocean-friendly lifestyle by ending their reliance on single-use plastics

Advocating for ocean-friendly legislation that improves waste management infrastructure and stops the cycle of overproduction and overconsumption that contributes to plastic pollution, like the Break Free From Plastic Pollution Act which is in front of the U.S. Congress right now

Hiring captains and crews around the world to recover trash that's already polluting our oceans, rivers, and coastlines

Investing in new technologies and solutions that stop plastic pollution and 4Ocean Upcycling, which is how we transform the trash we recover into new and useful products

Creating jobs that reduce inequality, decrease poverty, strengthen our communities, and give people dignity and purpose

Offsetting our carbon footprint and operating as a climate positive business

Exploring new and innovative ideas that will continue to increase our impact