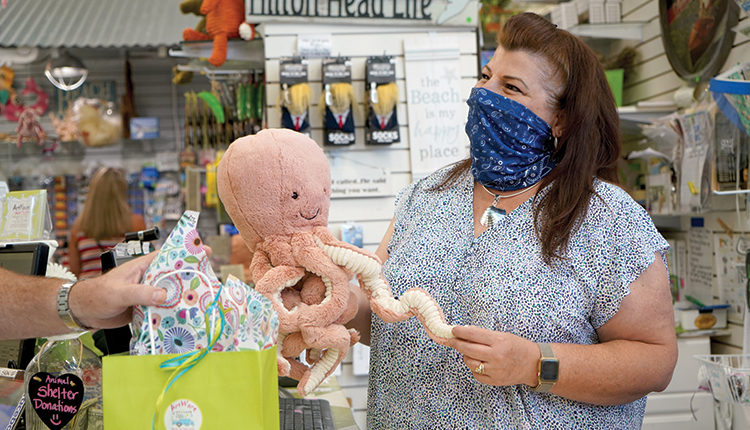 As Franklin D. Roosevelt once said, "A smooth sea never made a skilled sailor." Beach, coastal and nautical retailers who have had to weather the spring and summer of 2020 have had to learn what it takes to navigate uncertain waters and become skilled sailors at managing retail in unchartered territory.
"We are entering a time when the economy has no playbook. There are no best practices of how to think about the future of retail in a global pandemic," said Brian Solis, global innovation evangelist for Salesforce.
The best selling author, international keynote speaker and digital anthropologist addressed retailers during a webinar in June 2020 as part of a series of Stand Up 4 Retail webinars hosted by Surf Expo in partnership with Outdoor Retailer, RetailX, ASD Market Week and NY Now. The complimentary webinars were designed to help retailers combat and navigate through the challenges of COVID-19.
Solis coined this new era of retail the Novel Economy. "In a novel economy there is no playbook. There are no case studies, which means you and I are responsible for writing that as we go," he said.

He advised that business continuity and getting back to normal or surviving isn't enough. He sees the Novel Economy evolving in three phases: Phase One is about survival, business continuity and seeing areas for improvement. Phase Two is about looking for opportunities for integration, mastering the new normal and innovation, and Phase Three is about thriving.


Surviving and thriving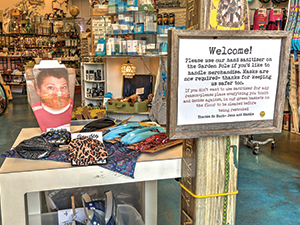 When Jennifer Megliore was required to close her Hilton Head, South Carolina, gift and art store, ArtWare, she immediately adapted so customers could still shop.
"We were lucky we could still continue to do curbside service and were allowed to deliver to people," she said of the shutdown. "I was also collecting orders online, which was really a godsend during this whole run."
Though the two-week closure was not nearly as long as in other states, Megliore says the store was "running on vapors."
She kept busy with deliveries and used the extra time she had on her hands to upgrade ArtWare's website, adding hundreds of product photos and videos.

The time the store was closed was anything but a vacation for Megliore. "In your head you are trying to figure out how you are going to pay your bills," she says, adding "We are all challenged with riding that thin line between ensuring our economic survival and keeping our customers comfortable."
When ArtWare did reopen April 21, it involved adopting many new safety measures.

Early on, green collection baskets were placed inside the store on the floor about every 10 feet. Customers placed anything they touched but didn't buy inside the green baskets. Staff would then sanitize the items and place them back on the shelf.

"That way, our customers know everything they touch has been cleaned," Megliore says. The store also began offering local deliveries for $3 and a touchless pick up option when customers order online.
Every package is sanitized, wrapped in tissue and labeled with a sanitized sticker.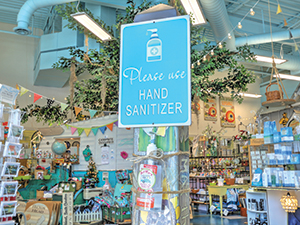 When customers arrive to pick up an order, the staff bringing it out wear a mask, use a disinfectant wipe and place the item in the vehicle with a four-foot grabber to keep an effective social distance.

"Before the mask law went into effect, I was much more concerned than I am now," Megliore says. "I was so proud of South Carolina Governor Henry McMaster for having the courage to put that law into place."
It seems ArtWare's customers feel the same way. "Our season is oddly good," Megliore remarks. "My biggest challenge right now is not enough help. What normally takes a team of six I am doing with myself and two co-workers."
Spartina 449, one of the Southeast's most recognizable coastal brands, was not immune to the impact of COVID-19. The retailer and wholesaler of island-inspired women's apparel, jewelry and accessories closed all 13 of its retail locations to foot traffic March 17, 2020. The opening of a new store in Savannah, Georgia, was also put on hold.

Its seven South Carolina stores reopened April 23. Three stores in Georgia, including the new Savannah location, the Florida store and three North Carolina locations opened throughout early to mid-May.
"Our customers are extremely loyal to our brand," Christy Sheets, Spartina 449's director of retail stores says. "They made it a point even through the pandemic to call the store or go online to make purchases. And then the response we've gotten since we've reopened, they are thrilled. We have people coming in just beyond excited for the shopping experience again."
Customers now have the options of shopping inside the store where personal protective equipment is required for the customer and staff, touchless curbside pickup and shipping.

The company is adopting whatever the strictest standard is in the states it operates in across all locations.
Plenty of research went into developing a strategy for reopening, according to Sheets. Having been in the retail business for over 20 years Sheets had many peers from other companies she could confer with.
"We collaborated with a lot of brands and just really took the best practices from everybody," she says. "A lot of the things we are doing are things the retail community as a whole is doing."
In addition to its 14 stores, Spartina 449 is sold in hundreds of other retail stores across the country. The closure of Spartina 449 stores and the many other stores that carry Spartina 449 products hit the company hard.
"It's just been very difficult. We have three different tunnels of our business. We have our wholesale business, our online business and our retail business," says Sheets. "This pandemic truly took away wholesale and retail dollars. The only source of revenue that we had for five weeks was e-commerce, and that does not make up for an omnichannel business."
Riley O'Connell, vice president of sales for Spartina 449's wholesale channel, remarked at the perseverance of the company's retail partners.

"They have worked so hard during this time to stay connected with their customers and create new ones through avenues like Facebook and Instagram, personal virtual shopping visits and curbside pickup and delivery," she says. "Through it all, they stayed creative and committed to their customers."


Bouncing back
While those initial months of the pandemic certainly had an impact on retailers, signs of a rebound are abundant as people are looking to return to normal as much as the pandemic will allow them. That includes an eagerness to travel.

Though occupancy limits are in place at many hotels across the country, some in coastal areas are selling out their 60 percent occupancy requirements, according to a July 14, 2020 article published by CNN.
While corporate retreats and weddings were canceled, one resort owner in Montauk, New York, had made up the losses in transient bookings, which fetch a larger per room rate. The article also noted the resort's Newport, Rhode Island location had quadruple the reservations in June than the previous June.

"While activity in the sector will likely remain slow into the third quarter, we expect robust transaction activity late in the year, as the industry begins to see the light at the end of the tunnel," Hannah Smith, a senior consultant for hotel research firm STR, says.
Meanwhile, National Retail Federation Chief Economist Jack Kleinhenz appeared to be cautiously optimistic in July about May's economic numbers.

"While it would be unusual for a recession to last less than six months, it is possible that the current one could have already ended with May's rebound," he says.
The stock market, usually a leading indicator of economic recovery, has seen a strong recovery since its February crash, closing out its best quarter since 1998 and recovering most of the first quarter's losses. Payroll losses also rebounded by 2.5 million jobs in May, consumer spending was up 8.1 percent and retail sales rose almost 18 percent month over month, Kleinhenz noted.

While citing upward trends, Kleinhenz emphasized that the economic recovery will still be dictated by whether efforts to end the pandemic are successful.
"Before we prematurely celebrate the return of the consumer, the wave of new coronavirus outbreaks spreading throughout the country are a major threat to the recovery," he said, adding the continued outbreaks could affect consumer and business confidence.


Bringing confidence back
Requiring face masks and offering free sanitization stations will help customers feel safe and want to shop in your store, according to Katrin Zimmermann, managing director, the Americas, for TLGG Consulting.
She spoke during a Stand Up 4 Retail webinar in mid-July titled Brick-and-Mortar in the U.S. Post-COVID-19. Zimmermann emphasized the importance of communicating with customers upfront and across all channels.

"We need to showcase what our values are and what we stand for in an authentic, customer-centric and valuable way, and we need to offer trusted brands and products within our stores that might amplify or cater to some of these trends that we're seeing in the marketplace," Zimmerman said.
She added that store owners need to think about how to support the human connection and interaction within the store and figure out how to cater to "this new normal."
Adapting to the post pandemic world, she said, means looking at "how to reinvent the experience in the store in a low touch economy."