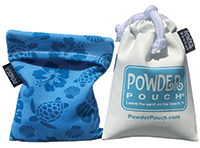 Whether you're surfing, on the beach with friends, or with little ones, Powder Pouch will brush off sand to keep you comfortable.
The Powder Pouch was created by a fifth-generation beach family who love the sand, but didn't want to bring it home!
Refillable, Reusable and Washable
Will Last for Several Seasons
Free Carrying Case
Comes Pre-Filled with a Starter Supply of All Natural Cornstarch
Helps Keep Sand Out of Vehicles and Upholstery

Directions: Pat the powder filled pouch a few times to release the powder. Gently rub against the dry sandy areas of your skin. Sand easily falls away leaving you feeling smooth and comfortable. Fold and store in drawstring carrying case.

Product Care: When cotton applicator is empty, machine washable. Tumble dry low. Refill with your favorite powder. Use damp cloth to wipe clean carrying case.
Visit https://powderpouch.com to learn more.