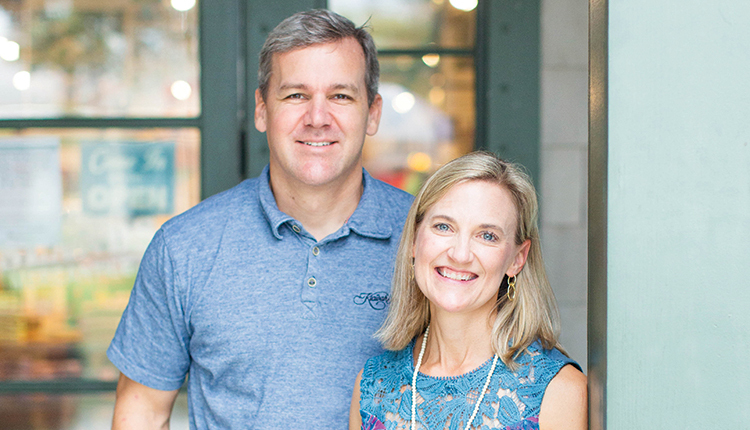 The islands off Charleston, South Carolina, are known for the beaches, the golfing, the slower pace and the southern charm. They're a relaxing oasis for visitors who return each year and for locals who call them home.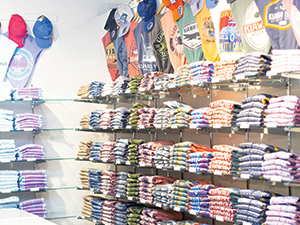 Avery and Ben Smith have learned how to capture that unique island feel you will only find in Carolina's lowcountry with their gift and souvenir shop, Islands Mercantile. The store is located in an outdoor shopping complex on Kiawah Island called Freshfields Village.

"Because the shopping center is pretty upscale, it's definitely not your typical souvenir shop," says Avery.
When the store first opened in 2005, the idea was to give it a general store type of feel.

"We are still in that realm but with a coastal twist," she explains.

She and her husband Ben bought the store in January 2019 from Avery's stepfather, David Shaw, who was known in the area for owning retail businesses. At one time Shaw owned five stores in Freshfields Village alone.
Shaw opened Islands Mercantile in 2005 as a larger version of The Kiawah Shop, which he started in 1984. It had been the oldest operating "logo shop" on the island until it closed in 2017 to be torn down for new construction.

But you can still find plenty of apparel, gifts and accessories with the Seabrook and Kiawah Island names on them inside Islands Mercantile's 3,000-square-feet, loaded with tons of sweatshirts and tees among its displays.

"I would say 90% of our business is soft goods: T-shirts and sweatshirts. We do two different name drops with Kiawah Island and Seabrook Island, which are the two main islands around us," says Avery.
Approximately 85 to 90 percent of the business is geared toward Kiawah Island because it is a bigger destination island. Seabrook tends to be more residential.
Along with the variety of shirts, the store carries all sorts of other souvenirs, gifts, beachwear and toys.
"We try to have things for the entire family," says Avery.

Sweatshirts are the store's biggest seller. Champion and Gear brand sweatshirts and the Blue 84 line of apparel from Lake Shirts are all popular.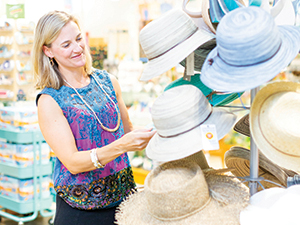 A welcoming feel

The exterior of Islands Mercantile makes customers feel like they are going to visit an old friend's house. The cedar shake siding and dark green trim are inviting to the shopper. Red Adirondack chairs sit on the front porch adding to the welcoming environment. The chairs are part of a recycled plastic furniture line sold at the store.
When customers first enter the store, they are immediately greeted with family pictures of the Smiths with their two daughters, Katelyn, 11, and Madison, 13, hanging above the front table. It's not uncommon to see the two girls helping mom and dad out at the store.
"It's definitely inviting and vibrant," says Avery of the store atmosphere. "We try to do lots of fun displays that are eye-catching and have a personal feel. We want customers to feel like they are in a family store."
That family-friendly atmosphere fits in perfectly in the Freshfields Village shopping development and its dozens of quaint shops and restaurants with green space sprinkled around each of the quaint store fronts.
"It's just got a real coastal vibe and is very pedestrian friendly," Avery says of the shopping development.
In front of Islands Mercantile is a large grassy area where families gather on blankets or throw frisbees. In typical summers, bands will play on Friday nights. Islands Mercantile has an alligator mascot that dances outside with the kids during the concerts.

People who come to the island see gators all the time in the bodies of water nearby so "it kind of became our mascot," says Ben.

Freshfields Village also has a farmers market on Saturdays and outdoor family movie nights on Wednesdays. The shopping center also hosts "sip and stroll" events on the third Thursday of the month. Islands Mercantile will offer a discount or gift at purchase.

"This is definitely a destination shopping center. We are away from town by about 30 or 40 minutes, so this is really the only major shopping center nearby for tourists that don't live in the community," says Avery.
Sadly, in 2020, all those fun extra activities have been put on hold due to the COVID-19 pandemic.


Customer relationships
The majority of Islands Mercantile's customers are families on vacation. They come mostly from the East Coast and Ohio. They start arriving around Easter, and the store stays busy through Labor Day.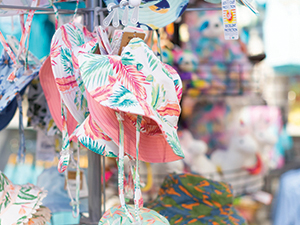 "That is probably 85% of our business, but our off-season business has gotten better every year," says Avery.
Many of the visitors are those who have been coming to the island every year for the last 20 years.
"There's some newcomers of course, but we definitely get a lot of repeat customers," says Avery.
The first part of Islands Mercantile's busy season was greatly affected by the COVID-19 pandemic. The store had to close for two weeks in March and spring break traffic severely declined due to a restriction on short-term rentals on the islands' resorts.

"When we closed it wasn't like we were doing a lot of business anyway," Avery says.

The Smiths spent those two weeks focusing on the store's website to make sure all of Islands Mercantile's products and photos were updated. They also worked on email campaigns, social media and tracking Google Analytics.
"It wasn't a huge success because we are such a destination shop that people were just really not thinking about buying online," Avery says.

The Smiths also took measures inside the store after reopening, including installing plexi-glass at the registers, placing social distancing markings on the floors and limiting capacity. Face masks have also become a requirement at the store.

Buying strategy
Avery does most of her purchasing for Islands Mercantile at two major industry trade shows: The Grand Strand Gift & Resort Merchandise Show held every December in Myrtle Beach, South Carolina, and Surf Expo's January show in Orlando, Florida. The timing of those two shows gives her plenty of time to get her orders in for spring.

"I also have a lot of relationships with sales reps that call on me and come to see me with their products," she says.

Avery will sometimes order product in October and it will arrive before Thanksgiving. That's fine by her because she has the luxury of owning a warehouse where she can store merchandise.

"I can buy in pretty big bulk," Avery says. "In the summer, if you need to reorder something it can take two to three weeks. In July you don't want to be out of something for two weeks."

Avery says she goes with her gut on buying. She'll also listen to some of her reps who have history on a product. She will take their advice and buy something if they say it is a hot seller.

"You are going to make some mistakes but sometimes it is worth taking the risk," she says.


Finding retail
Neither Avery nor Ben grew up in the retail business. Avery's stepfather didn't marry her mother until she was in college, and Ben spent 20 years working in commercial construction.
Avery and Ben both graduated from Clemson University. Avery earned a degree in graphic communications and found work with a screen printing company in Charleston right after graduation.
Little did she realize that one day she would actually be selling screen printed shirts. She worked for the printing company for only six months before she realized she wanted to do something different.

She turned to her mother and stepfather. They told her about a new retail store they were opening along with a website business. She transitioned to working with them in 2000 and has never looked back.
"The company grew, and I wore a bunch of different hats throughout the years. I started buying for them," says Avery.
When her mother retired, it was just Avery and her stepfather working the retail business for a few years. Shaw decided it was time to retire, "so I decided to buy the store from him," she says.
Her favorite part of owning Islands Mercantile is the happiness she can spread to her customers.
"I just love seeing people come in on their vacation and bringing home a piece of that memory of their time away," she says. "It's just a fun, rewarding thing to see."
Ben considers himself the people person of the duo. While Avery handles the purchasing, he enjoys getting to know the customers — where they're from, what they have in common and what their interests are, to name a few.

"Creating a short-term relationship with an otherwise stranger, I just think is a really neat thing," he says. "There are plenty of opportunities to do that in the store, and there's lots of different kinds of people, so it's really fun.


The secret to success
According to Ben, being successful in the retail industry is about putting yourself in your customers' shoes. For example, when the COVID-19 pandemic started, Islands Mercantile immediately started offering free local delivery and free curbside pickup.

When a local customer would order online and select postal delivery, Ben would reach out to the customer directly and let them know about the free delivery option.

"All of them have taken us up on that and been very appreciative of it. It's just trying to do right for the customer as if you were the customer," he explains.

Avery emphasizes the value of being present as a store owner.

"Being a small family-owned business, we've come back to the importance of being more involved at the store level and working side by side with your employees more, not just having them run the store for you and being a distant owner."
Avery adds that being more involved with the store helps with the morale of the employees, which ultimately will be passed on to the customers. ■
---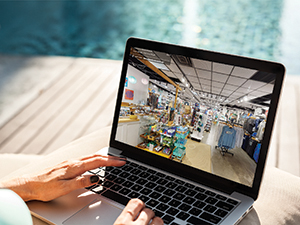 Experience the store from afar
While a picture may speak a thousand words, Islands Mercantile on Kiawah Island, South Carolina can do even better.

The company's store is virtual. That means visitors can literally browse the aisles from the comfort of their computer or mobile device.

Take a step inside by visiting the store website, www.islandsmercantile.net, and clicking the "click here" button in the top right corner of the homepage.