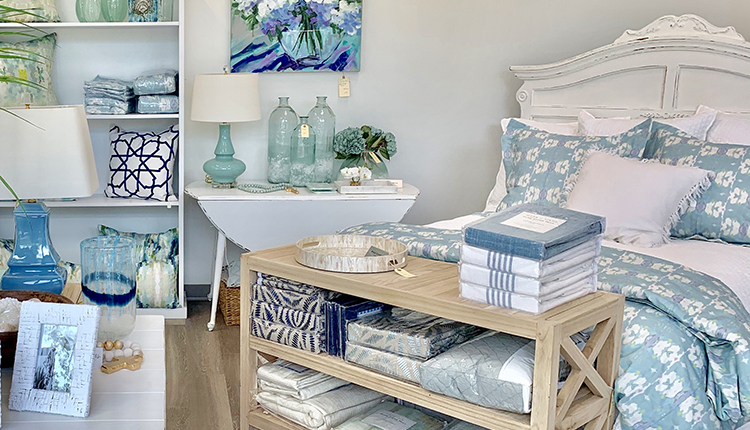 Crabby Chic, a sea-inspired gift and home décor store in Wilmington, North Carolina, has moved to a new location at 5815 Oleander Dr., just 2.5 miles away from its previous location on the same street. The new location opened July 2.
"Oleander Drive is one of the older, historical streets in Wilmington," says manager Pam Thibault. "We just love it. The commercial district has really grown."
The new location is between the beach and city's garden district.
"We really feel good about our new location," says Thibault.
To make sure customers could find the store, a sign was placed in the window of the former location directing customers to the new location.
"That's always a fear when you move that your customers will not be able to find you, but so far we are doing really well with that. Business is booming."
The large sign from the old store, which is about eight years old, was moved to the new store. The company's recognizable logo that has a crab and curved letters helps shoppers identifying the store, which has been a local staple since 2004.
The prime location and that it was to be a new building led to the decision to relocate. According to Thibault the previous location had some issues with lack of parking and ease of getting in and out of the shopping center because of the placement of a traffic light.
The new location has a traffic light right on the street that guides shoppers into the shopping center, "so it is much easier for our customers to get in and out and there's lots of parking available."
It is also a good location for capturing beachgoers. "When the beach traffic is coming into town, they have to stop in front of the shop so it gives them an opportunity to see us and just allows us to gain more customers," says Thibault.
The store is in a new shopping center and has a more coastal contemporary vibe, according to Thibault. "It fits us better and we were able to design the space since it was new construction. We got to pick everything from the flooring to the lighting. I mean it is just awesome to be able to do that from the ground up."
LED lighting in the new store provides a natural look and greater control over dimming and brightening for each display. The wood flooring is a natural wood that is similar to the color of driftwood. The store is also a little bit larger, at 4,500 square feet.
"It's just a really cool coastal vibe for us," says Thibault.