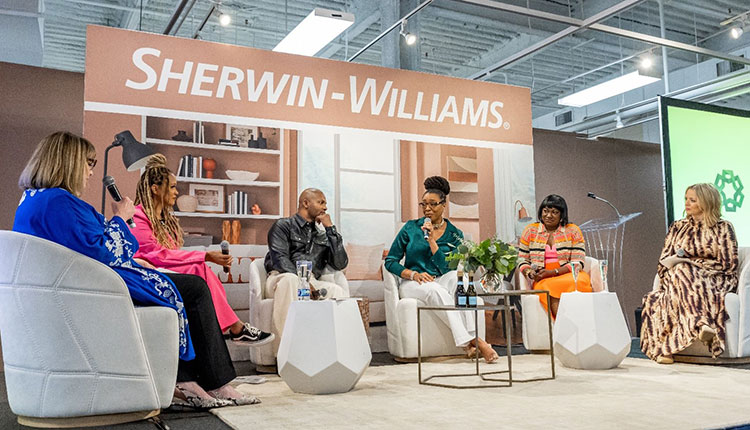 ANDMORE at High Point Market will deliver robust programming, complete with more than 40 webinars, events, presentations and seminars, including 17 CEU-eligible courses that will be available before and during the event. The Fall edition of High Point Market takes place Oct. 14-18 in High Point, North Carolina.
"ANDMORE offers retailers and designers the opportunity to connect with the industry's best through educational and immersive events as part of our Fall 2023 programming," says Karen Olson, ANDMORE executive vice president and chief marketing officer. "Market participants will enjoy a wealth of expanded and updated programming to encourage exploration this Fall."
The Fall 2023 TrendWatch, ANDMORE's proprietary High Point Market trend forecast, will explore home furnishings trends in a multipart presentation, including seminars, tours and displays. TrendWatch Curator Julie Vincenti Smith of Nine Muses Media in Chicago will kick off the Fall 2023 programming prior to the event on Oct. 4 at 1 p.m. Eastern to moderate a TrendWatch: Fall 2023 Webinar (1 CEU). The webinar, complete with consumer insights and creative intelligence from industry trailblazers, will offer an inside look at trends shaping the home furnishings industry. Vincenti will also host an at-market presentation Oct. 14 at noon in the Sherwin-Williams Seminar Room at the Suites at Market Square to expand on these trends. She plans to close the TrendWatch program with a TrendWatch Tour, leading attendees through TrendWatch displays in the International Home Furnishing Center's (IHFC's) Green Lobby and the Suites at Market Square Lobby on Oct. 16 at 2:30 p.m.
In addition, ANDMORE's partnership with Sherwin-Williams continues, with the paint company presenting two exclusive color programming sessions, additional co-sponsored presentations with ASID and Colour Hive and sponsoring the at-market education destination. During Fall 2023 High Point Market, the Sherwin-Williams Seminar Space on the top floor at Suites at Market Square hosts ANDMORE at High Point Market's 11 sessions on design trends and business opportunities.
At High Point Market, four headliner sessions offer daily conversations on industry and design, including:
Designing for Your Body, Mind and Spirit: Achieving a Wholistic Approach to Balancing Opulence and Zen – 4 p.m. on Oct. 14
Discovering American Sugar: The Quest for American Made – 10 a.m. on Oct. 15
Iconic Home: Interiors, Advice and Stories from Amazing Black Designers – 10:30 a.m. on Oct. 16
Women in the Industry – Staying True to Your Vision – 2:30 p.m. on Oct. 16
ANDMORE at High Point Market offers other trend presentations, including Colour Hive 2024 Global Trends to define how consumer demands will inform design themes; ASID's Economic Outlook Report on the future of the interior design profession; Designer's Toolbox – How to Live a More Stylish, Healthy and Harmonious Life on creating a more balanced home; and How Do Cultures Influence Color? on various culture perceptions.
At-market programming also will include business-building tips to lead in an ever-evolving market. All sessions will be presented in the Sherwin-Williams Seminar Room at Suites at Market Square.
Beyond trend and business education, ANDMORE's High Point Market programming also includes presentations from top design personalities and parties hosted by IHFC exhibitors. IHFC exhibitor Fabelli Italia will host an Italian Wine Tasting & Appetizers event at 4 p.m. Oct. 13 to offer regional wines, Italian bites and a raffle to win a trip to the Fabelli factory in Italy. Jeffan International will host a launch party for HGTV star Egypt Sherrod's new furniture collection at 3 p.m. Oct. 14. Additionally, Sagebrook Home will host its grand opening party complete with cocktails and hors d'oeuvres at 4 p.m. Oct. 14.
Additionally, visitors to the ANDMORE at High Point Market's properties will enjoy daily food and beverage amenities. A full list of ANDMORE at High Point Market events and programming is available online.