Retail for rescues
Pets love their people unconditionally, and ask for relatively little in return, just shelter, food and affection. For retailer Elysa Cooper, co-owner of Junebug's Beach House in Kennebunkport, Maine, giving back to vulnerable animals through her Love Four Paws initiative is an obligation, but one that is based on love.
As part of the program, the store, which opened in June 2012, partners with artisan makers to offer gifts, such as tote bags, beautiful watercolor dish towels and cuff bracelets with pet-themed artwork and sayings. The cuff bracelets have been offered since 2016 and are the store's most successful fundraiser. Once the merchandise is sold, 100% of the proceeds benefit local animal rescue organizations. So far, a little over $30,000 has been raised. The store even did a special fundraiser for pets displaced by 2017's Hurricane Harvey.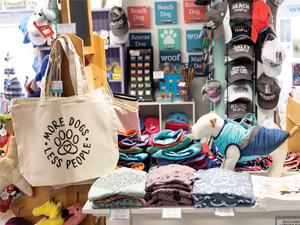 All in the name. Even the name pays tribute to Cooper's devotion to animal rescue causes. Junebug was the nickname of her terrier mix June, who the retailer rescued along with her sister May. At one pound each, the six-week-old dogs were the sole survivors of their litter. "June had the rougher start. So, when we were thinking of a name for the store, we thought, she deserved to have a store named after her," Cooper says.
Cooper recused the dogs from an adoption event at a store she had in North Carolina store, where there was a yard for such efforts. With no such space at Junebug's, the idea of fundraising with special merchandise was born.
There are so many dogs out there that need homes, that need medical care, and you know if we can do a little something to help, it's really just our passion."— Elysa Cooper

Caring customers. Loyal customers have contributed to the program's success. "The support of our customers and followers has been what has made our fundraising so successful," Cooper says.
She tries to change up the fundraising selections. "We've done everything from jewelry to T-shirts to tote bags to artwork and tea towels, all with a pet theme or a rescue theme." The store's motto, "The best things in life: dogs and the ocean" appears everywhere from the backs of the shirts to signs and frames.
"Rescue is super important; I mean I'm a serious dog lover. I didn't have human children, they are my children, and if I won the lottery, that's what I would do, I would rescue dogs," she says.
Starfish Awards recognize companies in our industry that are making a difference through charitable donations and efforts. Know of a company that is deserving of an award? Submit a nomination at www.seasideretailer.com/starfish-award.