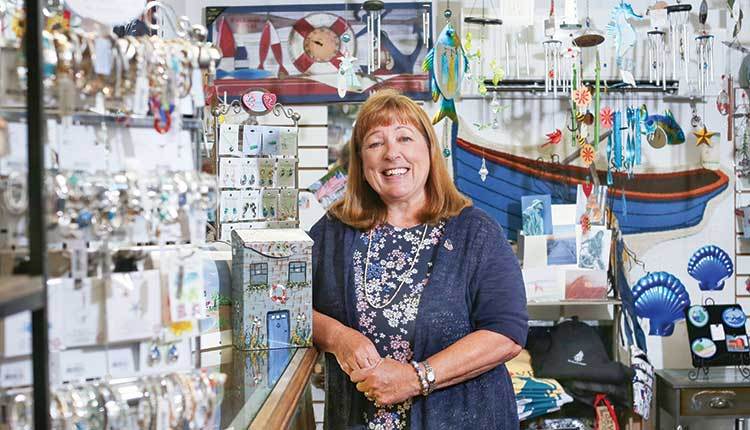 Proud to support servicewomen
Nestled in America's oldest seaport is a longstanding gift shop that's a point of pride for the north coast and a real hero to Operation Troop Support, a nonprofit headquartered in Danvers, Massachusetts, that helps deployed troops and loved ones back home with care packages, hospital supplies and more.
Pauline Bresnahan has been organizing a women-to-women donation drive at Pauline's Gifts in Gloucester for the last five years and has collected more than 1,000 pounds of goods. She holds the drive in May for Mother's Day and again during Labor Day to collect items in time for the holidays.
"I can't do enough to help these women. I was raised to give back. And I'm proud to do it." — Pauline Bresnahan
Socks, undergarments and other comfort items pour into her shop, with donating customers receiving a raffle opportunity to win one of Bresnahan's signature hand-painted lobster buoys when they also sign up for one of her decorative painting events. Pauline's Gifts also held a fundraiser to cover the shipping costs, which are over $19 per box. The store raised over $1,000.
Lending Support
The outpouring of support is a testament to Pauline's Gifts' do-good spirit and inspires Bresnahan to continue the effort. She has even received heart-felt thank you letters from recipients. "When you open that letter and read how much they appreciate the boxes they get from us, it's wonderful, and they talk about their children and — wow. It's such an amazing feeling to help like that," she says.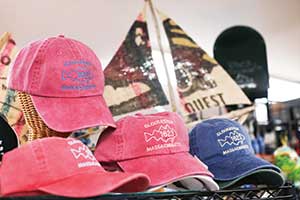 Photos: Candy McCall
Pauline's Gifts opened in 1999, and Bresnahan has been a decorative artist for more than 40 years. She has served on the Gloucester Tourism Commission and is an advocate for the town's women business owners. Pauline's Gifts is also the largest retailer of American and decorative flags on Boston's north shore.

Community spirit
Her 1,000 square-foot shop also holds displays of greeting cards created by local artists, jewelry, nautical gifts and driftwood art, along with signature Gloucester hats bearing the seaside city's 1623 date of founding inside a fish design. "I've been blessed to be in a great community that really supports their local stores," she says.
And as a fifth generation "Gloucester girl" and fourth generation business owner, entrepreneurism is a family tradition Bresnahan continues.

Starfish Awards recognize companies in our industry that are making a difference through charitable donations and efforts. Know of a company that is deserving of an award? Submit a nomination at www.seasideretailer.com/starfish-award.