Seeing after the sea
When you walk through the doors of Ophiuroidea, affectionately referred to as "The O" by locals, you're immediately struck by all the unique handcrafted items on display. Ophiuroidea, pronounced "off-your-roid-ee-ya" gets its name from a class of starfish. The aptly named boutique with two locations in Maryland is filled with coastal-inspired home decor, art and jewelry.
And like many stores that specialize in these items, it would not be complete without sea glass. The owner, Kim Hannon, has a deep appreciation for these colorful pieces of history and the local artisans who create jewelry and art pieces out of them.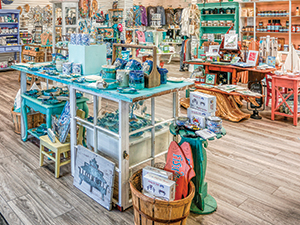 Photos: Ted Mueller
Hannon loves sea glass so much that she dedicates much of her spare time to organizations and causes that raise awareness about sea glass and that work to protect the waterways and shorelines where it's found.
Searching for treasure. Hannon is president of the North American Sea Glass Association and organizes the annual Eastern Shore Sea Glass & Coastal Arts Festival in St. Michaels, Maryland.
Like many beach buffs, Hannon has always collected shells, rocks and other interesting things she finds while strolling along the strand. "Sea glass is just a little bit more special," she says.

Sea glass is created from discarded bottles ground over time by sea and sand into smooth-surfaced jewels. But other less desirable discards also wash up on shore.
"I've always been one to try to help people. It's not just a monetary donation, it's a time donation too." — Kim Hannon
Ophiuroidea supports local nonprofits that help the environment and keep the coastlines looking pristine, including Kent Island Beach Cleanup, which hosts several trash removal events each year.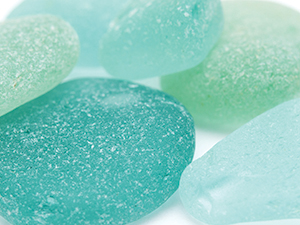 Spreading awareness. The Beachcombing Center is the newest project Hannon is involved with, servingas a board member. What began as a traveling museum about sea glass will soon have a permanent home in Tilman Island, Maryland. Visitors to the museum will learn about types of sea glass and experience interactive exhibits. ■
Starfish Awards, inspired by the parable of the starfish, recognize companies in our industry that are making a difference through charitable donations and efforts. Submit nominations at www.seasideretailer.com/starfish-award.