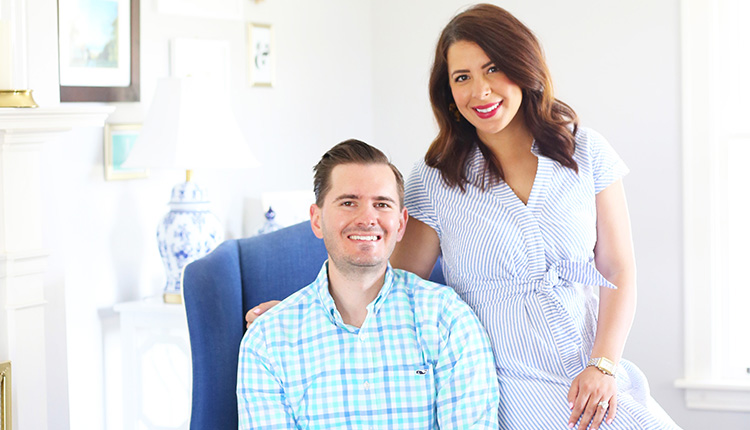 Amanda and Collin Horan, owners of Illinois-based product company Line + Cleat, are on a mission to bring the coastal community in the Midwest together through the Midwest Shore Society. Through their business endeavors, the Horans quickly realized that the majority of coastal business/creative communities were based in the south and east coast. With access to many of the Great Lakes and countless regional bodies of water, shorelines abound in the Midwest.
"There are so many amazing creative endeavors that are happening around the Midwest that stem from an appreciation of coastal culture," says Collin Horan. "We felt it was important that we bring this group together to help connect the dots and support one another in addition to creating a platform to tell these stories. Being a business owner ourselves, we weren't seeing anything in the market to connect people that share a coastal vision in the Midwest."
The mission of Midwest Shore Society is to connect and cultivate a community of creative and entrepreneurial minds that all share a love for coastal aesthetic. A budding resource and community aimed toward businesses, retailers, and creatives based in the Midwest, the Midwest Shore Society has launched a new podcast to tell the stories of those keeping the coastal culture alive and well in the heartland.
Each weekly episode focuses on the story behind a brand or person that shares this vision and is growing their network in the Midwest region and beyond. The podcast is available at www.midwestshoresociety.com, through the Apple Podcast app and Spotify.
Episode 5 features an interview with Seaside Retailer Publisher Karen Carr. In the episode, Carr discusses the magazine's mission of creating a community among beach, coastal and nautical wholesalers and retailers.
"Retailers are located all across the country but there are a lot of things that they have in common," Carr said. "We really wanted to be able to bridge the gap because so many trade shows are located in the fall and we thought how great it would be if there was something that connected the wholesalers and retailers throughout the year."
As Midwest Shore Society continues to grow, the Horans say the hope is to provide business resources and tools, mentorship, continued education and collaboration to members.
More information on the Midwest Shore Society is available at www.midwestshoresociety.com and on Instagram @MidwestShoreSociety.