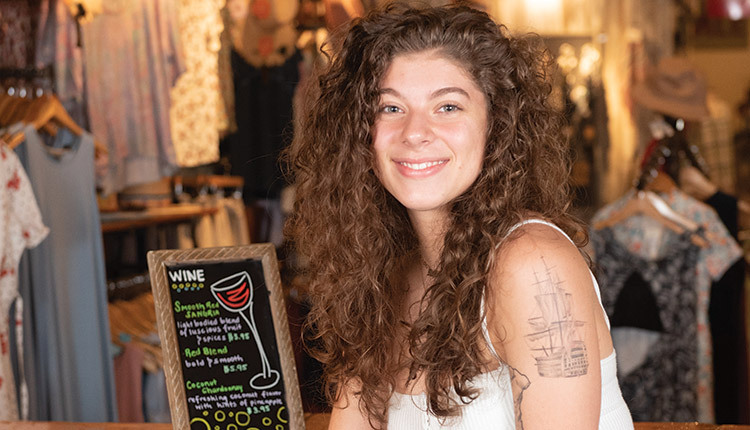 The website for Surf, Wind and Fire in New Bern, North Carolina, states plainly, "Yes, we are a retail store. No, we are not a boring retail store."
The sales hook: they sell local craft beer, cider, soda and nitro cold brew alongside outdoor clothing and gear. The drinks are on-tap at a log slab-clad bar on the retail floor. Colorful, candle-style chandeliers hang above patrons as they pull up metal barstools to read the chalkboard menu. The in-store bar is called the Surfing Pig Tap Room, a nod to the shop's surf-inspired apparel and the region's prevalent hog industry.
Surf, Wind and Fire's retail business has been around since 2007, but the bar was installed just two years ago. Customers are encouraged to sip and shop anywhere in the store or hang out at small tables out front.
"It's all about connection and community," says Julianna Moreland, who manages both the store's bar and online presence. "It's changed the whole dynamic of the store. If it were just apparel, we wouldn't get to meet people the way we do now."


Caffeine culture
With a population of just under 30,000, New Bern is a quaint riverfront town near the North Carolina coast. The soft drink Pepsi was invented at a drugstore in New Bern, and famed resident Nicholas Sparks set several of his romance novels here.
The nitro cold brew at Surfing Pig Tap Room is made with beans from local roaster Bellator Roasting Co., which has a storefront just a few doors down on Middle Street.

"It's changed the whole dynamic of the store. If it were just apparel, we wouldn't get to meet people the way we do now." — Julianna Moreland
Nitro cold brew is made using nitrogen gas, giving it a smooth texture and creamy head; it looks like a Guinness beer. It's typically less acidic but more caffeinated than brewed coffee.
"It's fun getting to introduce our small town to something new," Moreland says.
Surfing Pig's high-octane coffee can be sweetened with syrups, house-made sweet foam or sea salt foam.


Local beer bounty
Craft beer and cider on tap at the Surfing Pig change frequently, but the store works exclusively with domestic brewers, particularly those based in North Carolina. The shop also curates a limited selection of canned wines, spritzers and sodas. Bar food is limited to packaged snacks like chips and nuts.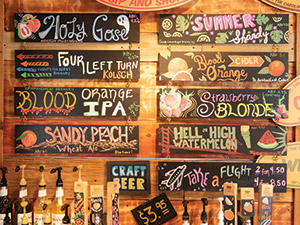 Photos: Bob Mackowski
"The goal behind the bar wasn't for people to get drunk. It's not a 'bar' atmosphere," Moreland explains. "It's about the experience and tasting good local beer and cider."
The store and taproom have inspired their own line of branded apparel and barware featuring the silhouette of a plump curly-tailed pig riding a surfboard. The logo wear is printed by Surf, Wind and Fire's sister company, S.L. Revival Co., also based in New Bern.


Bolstering business
Moreland says the store draws a nice mix of tourists on the way to the beach and regulars who enjoy the congenial atmosphere. COVID-19 restrictions put a damper on group events and growler sales, but the store's small staff is thinking about creative ways to promote the taproom as restrictions ease.
"One thing I learned during the pandemic is that people want to buy local," Moreland says. "People care where things come from, and we really felt the love from our town."
In April, Surf, Wind and Fire opened a new shop in downtown Edenton, North Carolina. The latest locale has a similar mix of merchandise and an in-store bar.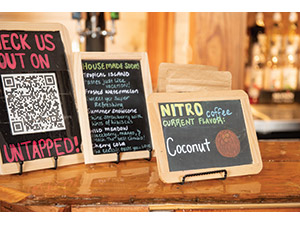 The beverage and retail aspects of Surf, Wind and Fire's business are surprisingly symbiotic, Moreland says. Some customers stop in to buy a swimsuit to happily discover they can enjoy a drink while they shop. Others are lured inside by the prospect of a local craft beer and leave with a New Bern embroidered hat.
Surf, Wind and Fire purveyors say they didn't invent the idea of in-store brews but borrowed the concept from specialty grocery stores.

"It took a lot of research and it didn't happen overnight," she says. "You have to look into licensing and make sure you have a kitchen. It can be overwhelming. It takes commitment and a want to do it. We would have never imagined it would work out so well."