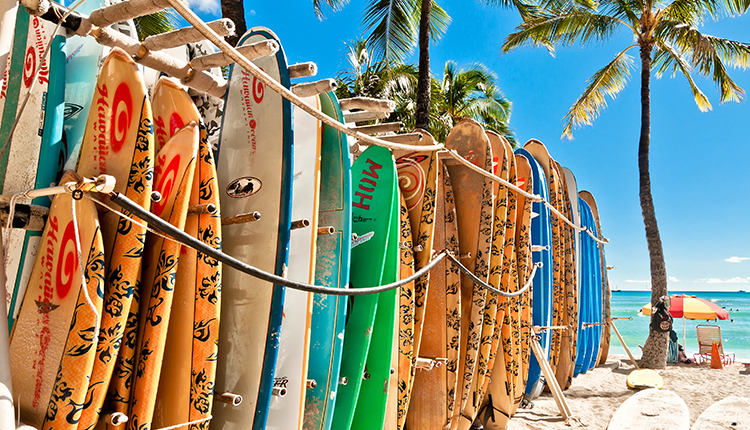 Hawaii's law prohibiting the sale, offer of sale, and distribution of sunscreens that contain the chemicals oxybenzone and octinoxate went into effect Jan. 1, 2021, making it the first state to enact such a law. The purpose of this law is to preserve marine ecosystems, including coral reefs. Scientific studies have shows that oxybenzone and octinoxate are toxic to corals and other marine life.
Some 3,500 sunscreens on the market contain the banned chemicals.
When Gov. Ige signed the legislation, SB 2571, Act 104, back in July 2018, he said, "Studies have documented the negative impact of these chemicals on corals and other marine life. Our natural environment is fragile, and our own interaction with the earth can have lasting impacts. This new law is just one step toward protecting the health and resiliency of Hawaii's coral reefs."
Retailers have had more than two years to prepare for the new legislation and find alternative sunscreens to carry.
"The sunscreen chemical ban has been a long time coming, and I think most residents and businesses are supportive of it," says Michael McGinnis. He owns four retail stores in Hawaii on the island of Kauai: Divine Planet in Hanalei and Koloa, Aloha Hanalei and Koloa Trading Post, but they've have been closed since Christmas because of tourism being down as a result of COVID-19 travel restrictions on the island.
The new law has resulted in an uptick in orders for Richard Jacobs, a brand rep in Hawaii. "The sunscreen ban has been very positive for my wholesale business as I represent two Certified Reef Safe brands of natural sunscreen: Hawaiian Sol and Raw Elements."
He's unsure what the impact has been on retailers. "It's a bit difficult to gauge currently due to the reduced retail sales resulting from the pandemic restrictions," he says.
The new law prohibited counties from restricting products containing the two chemicals until the state ban became effective. Products marketed or intended for use as a cosmetic and sunscreens prescribed by licensed healthcare providers are exempt from the legislation.
Hawaii is the first state to ban sunscreen. Key West, Florida, attempted to ban the sale of sunscreen containing oxybenzone and octinoxate. The law was to take effect Jan. 1, but Florida state legislators passed a bill preventing the city from doing so when it passed (SB 172), which prohibits local governments from regulating drugs and cosmetics sold over the counter. Key West is home to the largest coral reef in the continental United States.
The U.S. Virgin Islands, The Caribbean island of Bonaire and the archipelago nation of Palau in the Pacific also have bans on oxybenzone and octinoxate, and while there is no official ban on the chemicals in Mexico, popular tourist destinations there often request that vacationers wear reef safe sunscreens.