January 2023 Surf Expo expands 20%
By Edited by Kristin Ely
Net square footage for the Jan. 4-6 show is approximately 190,000 square feet.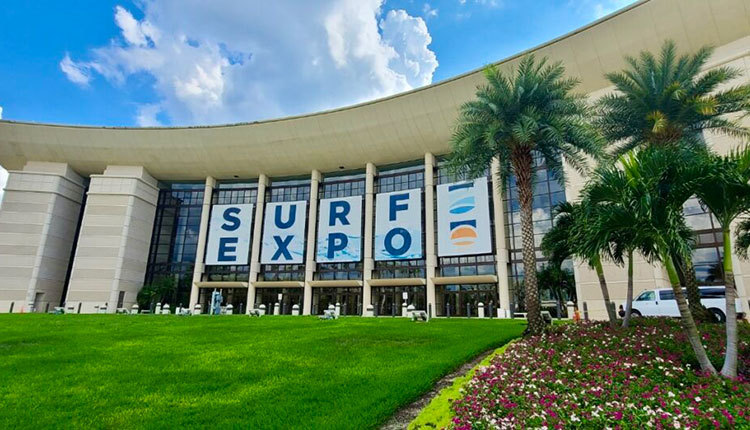 Surf Expo, the world's premier watersports and beach lifestyle tradeshow, is preparing to host another blockbuster gathering at the Orange County Convention Center in Orlando, Florida on Jan. 4-6, 2023.
Surf Expo continues to bounce back post pandemic, with the January 2023 show forecast to expand by 20% compared to the prior year. Net square footage will reach approximately 190,000 square feet.
Illustrating Surf Expo's strength is its finalist nomination at the upcoming Trade Show News Network Comeback Awards in the category of Customer Connectivity.
"We work hard to listen to and take care of all our customers, including brand exhibitors and retail buyers," says Roy Turner, Emerald senior vice president and Surf Expo show director. "We are thrilled that the winter show continues to grow post pandemic and are excited to welcome an impressive list of brands to Orlando."
A wide range of exhibitors have signed up for the January 2023 show including Vissla, Birkenstock, Salty Crew, Katin, Jetty, Dark Seas, Firewire Surfboards, MISFIT Shapes, Sharp Eye Surfboards, Xcel Wetsuits, Keen Footwear, Pura Vida, DIFF Eyewear, Bajio Sunglasses, AFTCO, Hey Dude, Havaianas, Sperry, Sun Bum, Dragon Alliance, and many more.
"We're really looking forward to Surf Expo January," says Paul Naude, Vissla CEO. "If it's anything like the recent September show, it's going to be a cracker. Retailer attendance was great in September – the strongest show since the pandemic. We believe that the momentum will continue as exhibitors and retailers look for direction going into what appears to be an unpredictable year ahead."
Salty Crew Global Sales Director Tom Ruiz said Surf Expo is a "must attend" event to meet with key industry retailers efficiently and effectively. "Surf Expo creates the opportunity for brands to connect with some of the best East Coast and Gulf Coast retailers."