Bringing his vision to life
By Brooke Bilyj
Michael Callahan's dreams have come true with Lazy Gator Gifts' sprawling, southern retail experience in Murrells Inlet, South Carolina.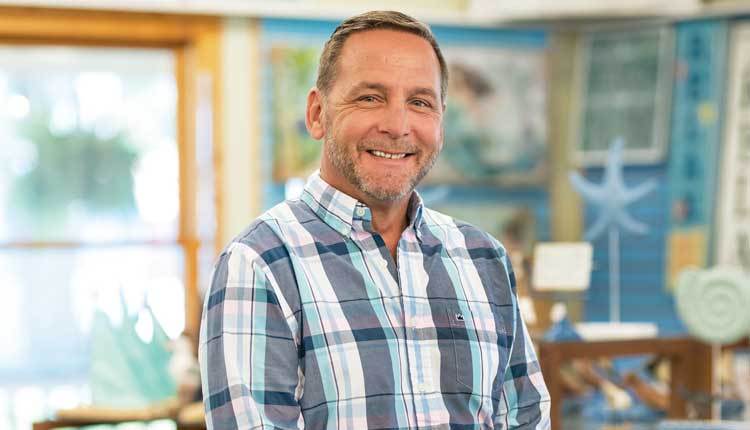 Photos: Michele Coleman

From the outside, Lazy Gator Gifts looks like a charming Southern home, with expansive wraparound porches
decked with colorful rocking chairs that beckon relaxation. On the inside, the former seafood restaurant now serves as a sprawling 12,000-square foot retail space featuring coastal decor, local art, jewelry, kitchenware, toys, T-shirts, seashells, homemade fudge and more.





Owner Michael Callahan says the store offers "something for everybody in the family"— whether guests actually come to shop or simply to "sit on the porch and take in the scenery," he says. That welcoming vibe was exactly what Callahan set out to create when he opened Lazy Gator in April 2006.





Callahan had been looking for the perfect location to house his retail vision in Murrells Inlet, a small town south of Myrtle Beach known as the seafood capital of South Carolina. While searching for properties in the area he passed a restaurant that embodied the building he envisioned for his store.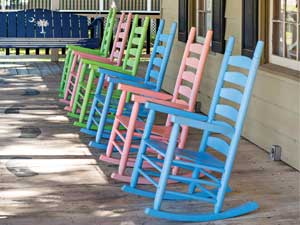 "It had the big porches, the Lowcountry design, and the vibe I was looking for — but it was a restaurant," Callahan says. "I finally reached out to the owner of the building and told him I wanted to open a gift shop. His first comment was, 'You do realize how large this building is, don't you?' He was very skeptical."





But after several meetings to discuss Callahan's business plan, the owner agreed to lease him the building. By blending his construction background with his previous coastal retail experience, Callahan turned the space into a successful gift store that's just as well known for its wide variety of merchandise as it is for its relaxing front porch and distinctive southern charm.







Building a retail space
Callahan first experienced the beaches of the Grand Strand, which stretches along the northern coast of South Carolina, as a college student when he spent the summer working at a relative's coastal gift shop in North Carolina.





"I ended up falling in love with the area and never left the Grand Strand after that," says Callahan, who was born in Akron, Ohio, and grew up near Chicago.





Callahan went on to start his own construction company focused on framing houses. One winter, during a slow construction season, he started helping out at his relative's coastal store again and ended up working there for 12 years. Realizing that he still had the entrepreneurial itch to start a business, Callahan decided to open his own coastal retail store and began looking for a property. He narrowed his search to Murrells Inlet because of the area's small-town charm packed with attractions like numerous seafood restaurants, many fishing spots and golf courses.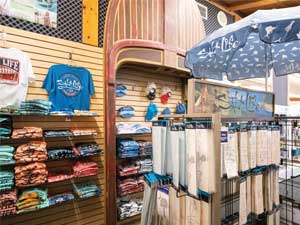 The building he ended up leasing for his store sits directly across from the Murrells Inlet MarshWalk, a half-mile-long creek-front restaurant district. The location was ideal for foot traffic, but the building required renovation to turn the former seafood spot into a retail space. Fortunately, Callahan had the construction experience to transform the building himself, with help from his business partner, Dusty Batten.





Before tackling renovations, Callahan visited the site to take pictures of the necessary repairs. When he loaded the images on his computer, he noticed something floating in the pond in front of the building. Zooming in revealed a three-foot gator lurking in the water, which became the quirky namesake of the store.





The site consisted of two main buildings connected by a sunken middle section, spanning 16,000 square feet total. Callahan raised the floor in the middle section and added ramps to make the space more accessible to shoppers. Each building contained a separate kitchen, which Callahan turned into warehouse space, leaving 12,000 square feet for retail.





In front of each kitchen sat a built-in salad bar, which Callahan repurposed. "Rather than tearing out a bunch of walls, I just expanded the openings and utilized the space that was there," he says. "On the north side, the salad bar became the fudge counter where we prepare all our homemade fudge, and in the southern building, I turned it into display cases for other products."





Callahan and Batten constructed all the store's displays and have continued to add new shelving through the years. For example, they turned two old canoes into display bins to showcase various seashells. "If we want a certain display, we can just throw something together," Callahan says. "All the displays were built by us, so it gives the store a unique feel."







Creating an experience
When laying out the store, Callahan thoughtfully arranged the merchandise into distinct sections to make the large retail space easier to explore.





For example, he arranged the rest of the store's food-related products around the fudge counter. "That's where we put our souvenir mugs, shot glasses, kitchen linens and coasters, and our gourmet food section is attached to that," he says. "So, there's a flow of items you'd expect to be located together."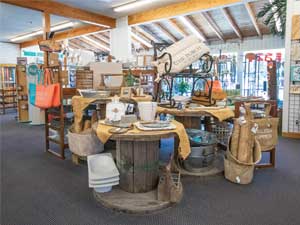 Walking through the store, guests pass through a garden section, a large expanse of souvenirs, and a kids' room full of plush and toys. Then, they descend into the middle section of the building, which features the store's T-shirt collection, with separate areas for brands like Salt Life and Simply Southern.





The farthest building houses seashells, pirate and sea life themed items and a large selection of coastal home and wall decor. These popular sections were strategically placed in the back. "Just like in a grocery store, you're going to find the milk and meat in the far corner, so people have to walk through the rest of the store," Callahan says. "We kept the most popular items in the far building to attract people over there."





After shoppers hit the Christmas section in the back of the store, which features coastal ornaments and other holiday gifts, they make their way back toward the checkout in the front. Women's jewelry and handbags are located near the registers, which allows the staff to monitor more expensive upscale merchandise — like Ronaldo Designer Jewelry, Vera Bradley handbags and Spartina accessories.





This wide selection of coastal merchandise in the store supports Callahan's original goal "to create a shopping environment with a mix of products that entice our customers to travel further to seek us out," he says. "You're not just going to a jewelry store, a fudge shop, a garden store or a T-shirt shop. It's all wrapped up into the shopping experience, where we've got something for everybody in the family."







Adding local flair
Although most of Lazy Gator's coastal decor is tucked into the back of the store, Callahan intentionally pulled out the work of local artists to feature in the front so shoppers see it as soon as they enter.





Callahan and Batten find many of these handmade items on their own travels along the Grand Strand. "When we're out and about, we notice certain things we're attracted to," Callahan says. "Being in this industry, the last thing we want is a regular souvenir. We're not just looking for a picture frame, but something unique that actually invokes the memory of where it came from."




"You're not just going to a jewelry store, a fudge shop, a garden store or a T-shirt shop. It's all wrapped up into the shopping experience, where we've got something for everybody in the family." — Michael Callahan



They also discover local artists through the craft shows they host on-site. The event is called "Under the Oaks." Between 50 to 60 vendors set up tents to showcase their handiwork under the oak trees on the front lawn. The shows are held in the spring and fall, though Callahan hopes to increase the frequency in the future to highlight more local makers — some of which end up selling their products at Lazy Gator.





"We get to look at all the vendors' products, and every once in a while, we'll say, 'Wow, now that's unique,' and we'll negotiate with them to figure out whether we can carry it in the store," Callahan says. "We have gotten a lot of our local artists from our craft shows."





Lazy Gator features several product lines made in the Carolinas like Gullah Gourmet foods and wood pallet art from Map Mom, both based in Charleston. The store also showcases an array of USA-made brands like Dune Jewelry & Co., which makes accessories with sand from beaches around the world, including local sites like Surfside Beach.





Products that are local or made in the USA are "the anchor in the field," Callahan says. "So much of what we buy has to be imported in order to remain competitive, so when we can find an American made company that we can highlight and still be able to remain competitive with, we're eager to do that."





These unique local items give shoppers a reason to visit Lazy Gator over other retailers because they can't get them anywhere else. For example, Callahan worked with a graphic artist to design a Lazy Gator branded T-shirt that says, "Murrells Inlet: A sleepy little fishing village with a big drinking problem."




The shirt became so popular that Callahan and Batten decided to make it their main promotional item, offering a discount for it in the Grand Strand coupon book to draw people in.





"We viewed it as marketing, and I can't tell you how valuable that is, because I see these shirts everywhere," Callahan says. "I've walked through a store in Virginia and seen one of these shirts. I've had friends in Kentucky say, 'You'll never believe what I saw today: a Lazy Gator shirt!'"







Looking to the future
Callahan has watched the Grand Strand grow and evolve over time as hotels, amenities and new attractions lure more tourists to the coast. This transformation has brought more people to Murrells Inlet and into Lazy Gator, specifically. In fact, "last year was the best year we've ever had," Callahan says.





The store's main season runs from Memorial Day to Labor Day, but ongoing growth in the region "has increased our business in the shoulder months," Callahan says.





To keep shoppers coming back throughout the year, Callahan leverages his point-of-sale system to collect customer info, like birthdate and contact info, so he can send coupons during their birthday month and other specials throughout the year.



"The children who used to come into the store with their parents when we first opened are now bringing their children back. We've become part of their family's vacation memory."



Over the last couple of years, Callahan has noticed a distinct shift in his customer demographic. "We've been open long enough that all of a sudden, we became a legacy store," he says. "The children who used to come into the store with their parents when we first opened are now bringing their children back. We've become part of their family's vacation memory."





To ensure a consistent experience at Lazy Gator through the generations, Callahan is preparing the next wave of leaders to carry on the store's legacy. He closely mentors Batten, the store buyer, and Jennifer Beall, the store manager. Both own shares of the business and together manage day-to-day operations, overseeing 20 employees during peak season.





"The trust I have in them is invaluable," says Callahan, who owns two other businesses besides Lazy Gator. "Our anchor employees and even part-time staff mean a lot to us because they all take ownership to make sure our customers have a great experience."