Casual Apparel: Seeking out smaller brands
By Kristen Hampshire
Carrying colorful threads in a range of price points invites spontaneous buys.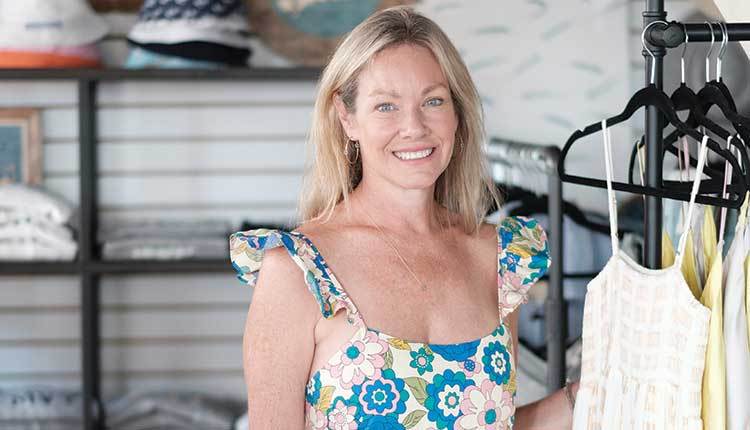 Anne-Marie Eddy has a passion for threads — local labels, dresses for beach days and party nights, breezy knit ponchos and winter-wear for the year-round crew. "It's transformative seeing people light up when they see something new in the shop or they saw a display outside and 'have to wear it,'" says the owner of Coastal Supply Co. in Vineyard Haven, Massachusetts.





Situated on the main drag up from the ferry, this is one of six towns on Martha's Vineyard that is year-round, and Eddy tailors her clothing, accessories and decor accordingly. Initially, she opened the shop as Re-Fabulous Decor as an Annie Sloane chalk paint dealer. "I was painting hundreds of pieces of furniture. It was a wonderful studio, and I started to carry jewelry with a local vibe and other handmade crafts," she says.





The store expanded and so did Eddy's desire to expand her inventory when guests would walk in and ask, "Where is your clothing?"





"I love clothing, and it was a demand," she says. "There are clothing stores in Vineyard Haven. We didn't want to compete with them and they carry the larger well-known brands so we ended up carrying brands that do smaller inventory — and we love them!"




Apparel appeal
Palatable price points and apparel that spans the seasons differentiate Coastal Supply Co. from other shops in the area that carry clothing. One popular line is Batela, a Spanish company with coastal appeal that offers zip-up hoodies, men's sweaters, raincoats and sweaters. "That is our year-round brand and people come in asking for it," Eddy says.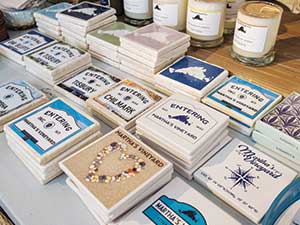 Photos: David Welch

Pretty Pink Pineapple sweaters from a Newport, Rhode Island-based company are also top sellers for locals and visitors since many of them bear words like "coastal" and "local vibe."





"People go to those when they are looking for sweaters to give as gifts," Eddy says.





One with a lobster motif with the Martha's Vineyard map coordinates draws attention.





"She is good about working with me to come up with custom designs every year," notes Eddy.





For instance, Eddy selects custom colors and weighs in on details. "We decide how the island image should look — should it be two-toned, show the inlets, have typing on it, include the NVY airport coordinates?"
The coordinates are big sellers. "We put them on hats and pillows, too," Eddy points out.





She orders small batches from vendors on Faire that are different from the "big names" carried in neighboring shops, according to Eddy.





"I like not having to buy minimums and I can try out different brands. Usually, they deliver quickly, so I can get the product within a week or two and see how they do before reordering."





ZIP code protection assures others nearby are not carrying the lines Eddy does, such as Guadeloupe, Pinch, Tulle and Batiste. Summer-weight knit ponchos from Loomist and Hand Loom are popular and double as linen beach coverups or casual attire for outings when paired with leggings.





"Maxi dresses are big right now with bright colors and vibrant prints," Eddy says. "A lot of people are looking for a dress for a cocktail party or day-wear. We like to offer pieces that have some sparkle to them like embroidered gold or silver."





Prices range from $75 to $250, and the sweet spot is $125, according to Eddy. Customers won't hesitate to spring for a flowy, on-trend piece at that cost.





Eddy also carries dresses in the $55 to $70 range by brands like Top It Off. "They're popular, preppy and shorter in a polyblend with anchors on them or bright florals for an everyday simple yet good quality dress, and they sell like hotcakes all day long."




Try and buy
About one-third of Coastal Supply Co. is apparel, and Eddy keeps pieces together on the left side of her shop on racks. "We keep a rack outside where we can catch people's eyes in the summer," Eddy says, pointing specifically to flowy dresses.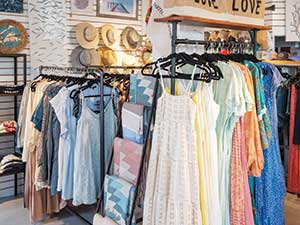 When people come in they might not be looking for a dress, but they'll see one that catches their eye and come back later, Eddy notes.





Customers will loop around the shop starting with apparel then work their way to the back of the shop where we have candles and body creams, maps, wall decor, cards, ornaments and decorative oyster shells.





"They might loop back and say, "I want to try on this dress," and Eddy trains sales associates to properly size and help select apparel for guests.





Everyone who works at the shop has personally tried on all of the apparel.





"It's important so they can see how everything fits," she says. "One medium might fit completely different than another. We don't push customers toward anything that doesn't feel just right. We say, 'Let's try something else that would be more comfortable for you."




"It's transformative seeing people light up when they see something new in the shop or they saw a display outside and 'have to wear it.'" — Anne-Marie Eddy




This approach has helped Coastal Supply Co. rarely receive returns. "We always encourage people to try on clothes for that reason," Eddy says.





Coastal Supply Co. still sells Annie Sloane paints on a daily basis and Eddy also holds workshops. "It has been a mainstay," she says.





The shop no longer does custom painting. Associates are trained to consult with guests and provide instruction on how to paint their own pieces.





After 10 years in business, Eddy's studio that evolved into a sought-after year-round coastal shop is thriving, and she's looking forward to continuing to showcase fresh brands.





"I like having a little bit of everything for everyone — and not just offering items you only wear to one event."