Rental with Retail: Capturing island vibes
By Kristen Hampshire
Island Outfitters' rentals and shopping options work in tandem.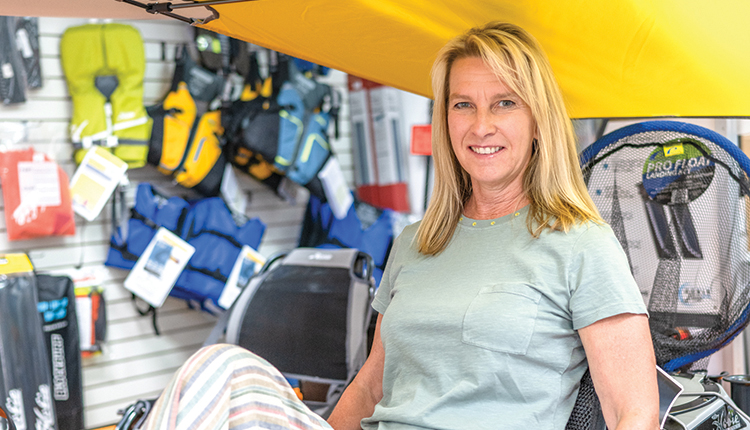 Island music beats fill the shop and outdoor area of Island Outfitters on St. George Island, Florida, where a five-in-one retail and rental operation thrives with a vacation vibe. "It's like Margaritaville — people are on vacation, they come into the store, and the fun part is they are here to wind down and relax and we help them do that," says Angela Troy, who owns the shop with her Charter Captain husband Larry Troy. There, they run a kayak and paddleboard rental service, a fishing excursion business, a pro tackle shop, and sell coastal apparel, footwear, jewelry and artwork.
"Let's help you catch some fish, let's get you an outfit for the week and let's offer jewelry you can take home with you," Troy says of the synergy.

In 2003, the couple opened Island Outfitters as an outpost for the charter fishing operation with a tackle, bait and fishing supply shop.

"Rentals usually lead to retail sales on our tackle side of things, and without a doubt, every rental customer is also a retail customer and usually visits our shop more than once during their stay." — Angela Troy

"After we started out, I was looking at the ladies and thinking, 'This has to change. We can't just offer a store for men.'"
This led to introducing inventory including high-end resort wear like Fish Hippie, technical apparel like Simms, Huk and Kuhl, specialty items, accessories and T-shirts.

"We sell higher-end clothing. Our rods and reels are the best you can find, we sell Dune jewelry. I was one of the first retailers that started with the company, and we offer what is considered the Rolls Royce of kayaks by Hobie," Troy says.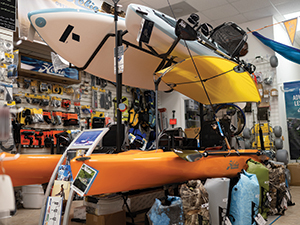 Photos: Aimee Vangelde
A thriving rental business where guests can kayak, paddleboard or spend the day on offshore and inshore waters with Captain Larry complement the retail operation. "Rentals usually lead to retail sales on our tackle side of things, and without a doubt, every rental customer is also a retail customer and usually visits our shop more than once during their stay," Troy says.

Renters buy in
"The best part of our business is helping make the most out of our customers' vacations, whether it is a new outfit or kayak rental," Troy says. "They are here to have fun and we want to help them accomplish just that."
This goal is essentially what spurred Island Outfitters' ongoing expansion of curated inventory. When it opened the shop, it rented out half of the store to a real estate firm. Within a few years, the Troys opened up the wall and began rounding out collections that appeal to vacationers who appreciate the quieter St. George Island vibe.

Kayaks are lined up in front of the shop, luring in guests who are curious, want to rent one to try paddling or are ready to make a purchase.

According to Troy they'll say, "I thought you were a kayak or rental store." But when they come in, they'll remark, "You have all of this!"

"We definitely get a lot of sales from people who are renting and vice-versa. They might come in to shop and say to us, 'It's a beautiful day out. Maybe I want to rent a paddleboard,'" she explains.
All told, Troy estimates that retail represents 85% of the shop's business with rental coming in at 15%.
The rental business is busiest in the summer, and this helps alleviate the labor challenges that retailers across industries are experiencing.

"For rentals, it's easily manageable with part-time summer help, and if I can only find one extra person, we just work a little harder for the few months when we are so busy," Troy says.

That said, the rental operation takes a physical effort. "There's no need for a gym workout — lifting kayaks and paddleboards gets you in shape pretty quick," jokes Troy.


Expanding the selection
Troy wants to be sure the accessories, apparel and gear offers customers something special to take home and enjoy. She intentionally seeks out brands that accomplish this.

For instance, when Troy came across Dune Jewelry before the company had a wholesale operation, she told the owner, Holly Daniels Christensen, "We need this!"

She discovered the line while seeking out fresh jewelry options in the Florida Keys. "I called Holly and asked her, 'Have you ever considered wholesale?'"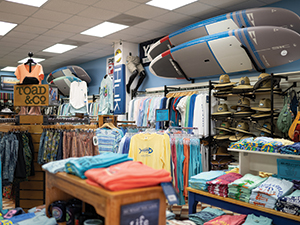 Island Outfitters has been carrying the line ever since.
The shop has enhanced its performance apparel selection with protective shirts, pants, hats and accessories from brands such as Bluefin, Gillz and Pelagic. Island Outfitters also carries activewear for women and children.

Especially for ladies, Island Outfitters sells the Escape line of apparel by Habitat Clothes with comfortable, colorful pieces that are Florida casual. Toad&Co is a sustainable line and Fish Hippie includes cotton tees in coastal colors.
The wide selection provides something for everyone who rents or books a charter experience. Above all, Troy says when guests visit Island Outfitters, "Everyone is happy!"