Pauline's Gifts supports women in the military
By Kristen Hampshire
The Gloucester, Massachusetts, gift shop collects donations for Operation Troop Support through various store drives.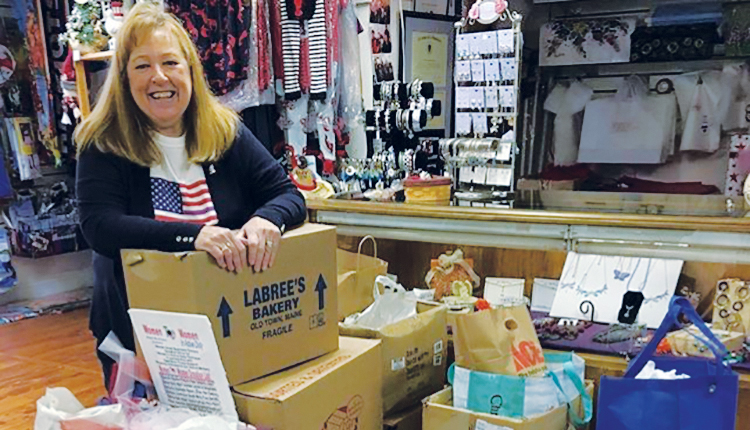 Pauline's Gifts in Gloucester, Massachusetts, is committed to helping women who are deployed in the military. Over the last five years, the store has collected more than 1,000 pounds of personal items through various drives it holds for the nonprofit Operation Troop Support, located in nearby Danvers. Owner Pauline Bresnahan usually holds the drives in May in honor of Mother's Day — and it's the month her shop opens for the season.
"Women really embrace this and I find they really want to help other women," Bresnahan says, noting that 20% of deployed military are female. "That is a huge number. And so many of the women are mothers."
Socks, undergarments and other comfort items pour into her shop, with donating customers receiving a raffle opportunity to win one of Bresnahan's signature handpainted lobster buoys when they also sign up for one of her decorative painting events.
After the month-long drive, she takes the items to Operation Troop Support. The organization started in 2003 and has five missions:
Sending care packages to deployed troops
Supplying military hospitals both state side and abroad with much needed comfort items
Spearheading an extensive holiday gift wrapping and distribution program to military forces
Coordinating a regional military family support group program
Generating a public awareness of the sacrifices and needs of the soldiers and their families
Everything collected at Pauline's Gifts is boxed into individual care packaged and shipped to port in New York or Virginia, then taken overseas. Bresnahan also held a fundraiser to help pay for shipping ($19 per box) and raised more than $1,000.
The outpouring of support is a testament to Pauline's Gifts' do-good spirit and inspires Bresnahan to continue the effort. "I got a thank-you note from a woman stationed overseas —they don't tell you exactly where — and I get emotional," she says. "When you open that letter and read how much they appreciate the boxes they get from us, it's wonderful, and they talk about their children and — wow. It's such an amazing feeling to help like that."
Pauline's Gifts opened in 1999 and Bresnahan has been a decorative artist for more than 40 years. She has served on the Gloucester Tourism Commission and is an advocate for the town's women business owners. Also, the store claims to be the largest retailer of American and decorative flags on Boston's north shore. The shop was winner of the Boston Gift Show's Pride of New England Award and a finalist for the National Retailer Excellence Award.
As for Operation Troop Support, Bresnahan will be holding another fall drive during Labor Day and following weeks to prepare for holiday giving. "I can't do enough to help these women."