Jewelry Trends: Simply irresistable options
By Kristen Hampshire
Most Irresistable Gift Shop in Hilo's jewelry selection lives up to the store's name.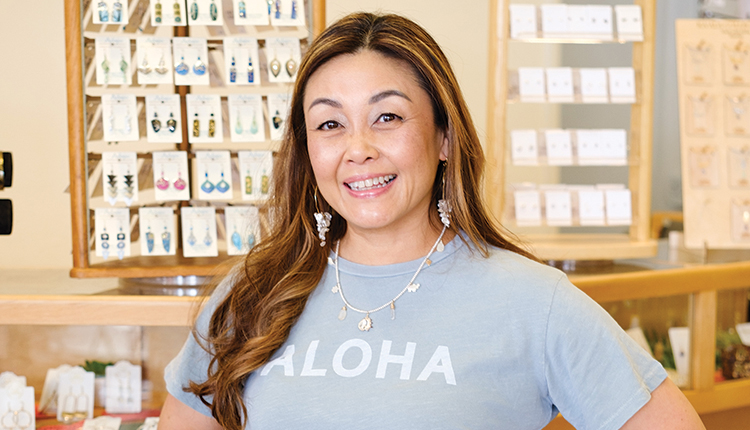 Tracie Yoshimoto, owner of the Most Irresistible Gift Shop in Hilo, says, "Something for everyone, is how she buys for the shop, located on the Big Island of Hawaii. "We are a gift shop so we are known for having unique items — quirky, sense of humor gifts but also quality. And we basically have every category in our store."
The store's jewelry selection is a huge draw for tourists and locals alike, and the dazzling, handcrafted pieces are situated with other unique finds from near and far that capture the Hawaiian spirit. For example, the shop sells quite a bit of Hawaii and Hilo apparel for men, women and children. There's a robust section of bags and purses, along with home decor and kitchen items. "We carry coffees, teas, spices, honeys, locally made kitchen towels — things that are giftable," Yoshimoto says.

"We work with a lot of mainland designers as well so the past two years have been a challenge with supply, but we have the e-commerce site," Yoshimoto says of maintaining and selling inventory. The shop's diversity and local goods is a benefit.


A secret dream
The shop was a "secret dream" for Yoshimoto. She had perused the shelves and purchased gifts and goodies from The Most Irresistible Shop in Hilo for years as a local resident. Eventually, she became a marketing manager at the mall where the store's second outpost was located.

Handmade jewelry by local artisans is appealing to visitors and locals who want something unique with Hilo character. — Tracie Yoshimoto

"I got to know Sally Mermel, the owner, as a tenant — and she was the best," says Yoshimoto.
Many years later, when Yoshimoto was a stay-at-home mom working as an independent contractor, she bumped into Mermel. She mentioned that one day she planned to sell her downtown store. "I said, 'If you ever do, I'd be interested,'" Yoshimoto recalls.
Yoshimoto gave Mermel a slip of paper with her name and contact information on it. "Eight years passed — it was during the recession so she wasn't going to sell then — but she kept my phone number in her wallet for all of that time," Yoshimoto says. "Then one day she called me and said, 'I'm ready to sell. Are you still interested?'"
The timing was perfect in 2013. Yoshimoto's third child was headed into preschool and she could envision growing a retail business. Sally coached her through the transition. "I call her my fairy godmother because this secret dream came true, and today she is a great friend and mentor," Yoshimoto says.

Since taking over the shop, Most Irresistible has doubled in size following a store renovation and expanded inventory, including jewelry, with an e-commerce site. "There is so much potential because it started out so small," Yoshimoto says.
Downtown Hilo foot traffic ushers in locals and visitors who are looking for unique gifts and handmade jewelry by local artisans — part of the interesting Hilo shopping experience. "Hilo is such a tight-knit community and you'll get that local culture. It's not the commercial way," she says.


Wearable eye candy
A selection of thoughtfully curated jewelry appeals to price points ranging from $18 to $100 and includes a range of Made in the USA pieces, imports and locally made items. Most Irresistible Shop does not carry 14 karat gold, but you'll find gold-filled jewelry and Sterling silver.

"I try to carry things that translate and speak to my local customers and visitors," Yoshimoto says.
Some of the shop's popular lines include Peach Shells Hawaii, which offers jewelry made from special shells found on nearby beaches. Specifically, the line includes bracelets and necklaces made with the scalloped sunrise shell in orangy pink. The company also creates gemstone jewelry that guests go after.
Another popular line is Midori Hawaii and its custom gemstone, shell, sterling silver and gold-filled pieces. Ka'lea is also a top seller. Made on the island, these contemporary pieces incorporate gemstones — many in aquamarine. "I think of them as modern but also feminine," Yoshimoto says.

Overall, the jewelry at Most Irresistible Shop shows off a distinctly Hawaiian style. "It's a very casual but beachy feel with a lot of shells that have been found locally from people who go combing," Yoshimoto says.
Tahitian pearls and freshwater pearls are also in demand, as are stacking bangles. "The bangles might include shells or pearls," Yoshimoto says.


A shining presentation
Lighting is an important aspect of displaying jewelry, according to Yoshimoto. "It catches the eye and makes jewelry sparkle a bit more," she says. Some existing fixtures that came with the store are glass towers with shelving. "The light shines through."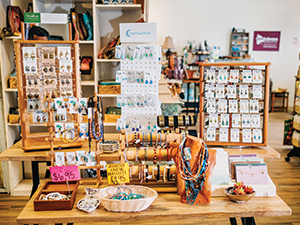 Photos: James Rubio


The custom checkout area consists of a raised countertop with a glass surface. "As people are checking out, they can peruse the jewelry right there," she says. "We try to utilize the countertop displays, especially for the earring cards."


Spinning displays also hold earring cards. And jewelry with a lower price point is often merchandized with men's and women's apparel to give guests ideas of how they can pair accessories with clothing. Those jewelry items might include earrings, bracelets, cuffs, rings and necklaces.

It's all about giving people ideas for ways to wear pieces and showing them the possibilities, Yoshimoto says.


The store's name, The Most Irresistible Shop in Hilo, is a tongue-twister that people remember, according to Yoshimoto. "It's always been called that and the name has recognition."


Also an important part of its legacy is the team. "I rely on them heavily, and my right-hand, Carole Makanui, has been with the store almost since the time it opened. Vicki Schulte has also been with the shop a long time."


From jewelry to gifts, Yoshimoto's "secret dream" of offering something special for guests has come true. She says, "The merchandise you'll find is very unique."