April Showers brought diapers, clothing and toys
By Kristen Hampshire
A community give-back initiative at Harborwear Gifts contributes essential supplies for young children.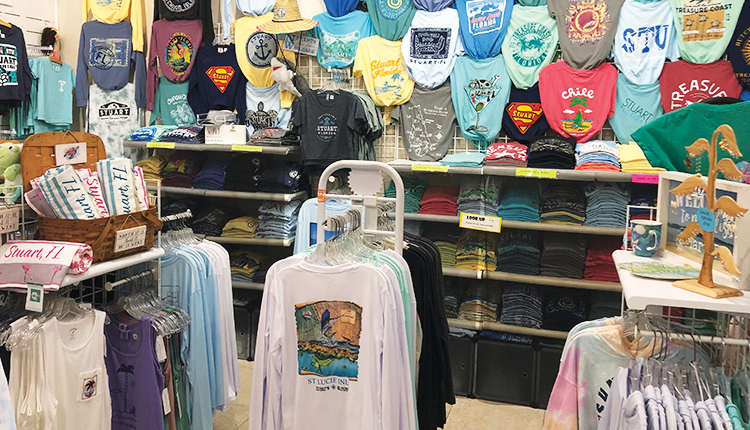 April Showers at Harborwear Gifts in Stuart, Florida, do far more than water the May flowers. A monthlong initiative at the store encourages customers to donate diapers, blankets, baby and children's clothing, and age-appropriate toys. The bundle goes to Helping People Succeed and its Healthy Families Program that offers support services through home visits that start before or immediately after a baby is born through age five. In return, shoppers get 10% off their purchases.
"The programs help develop children, get their brains ready to read, and we teach calming techniques and offer other supports for parents so they can raise children who are ready to go to school and achieve in life," says Heidi Bosley, who works at Harborwear and introduced the program to the shop as one of the organization's board members.
"A lot of times we go into the homes and we notice they do not have enough diapers or clothes. When people who work in our program see a need, they can say, 'Let me give you some packages to tide you over,'" Bosley relates.
Helping People Succeed serves 325 children under age five who are referred through social workers, physicians and word of mouth. "We go out to every single baby born in Martin County and give them materials so they know about us from day one," Bosley says. The nonprofit also provides mental health programs and refers families to other groups that fulfill needs.
This year's April Showers initiative at Harborwear spread to customers through social media posts and by a sizeable store display that eventually was filled to the brim. Owner Jen Stevenson says any effort to support the community is a priority. "We are all in this together and everyone contributes their piece," she says. "If everyone does just a tiny bit, it makes the biggest difference."
Harborview Gifts opened 18 years ago in downtown Stuart, and it sells resort wear lines like Life Is Good, Rum Reggae, Fresh Produce, Fresh Produce, Weekender, Jams World, Comfort Colors and more. The shop is a go-to for locals and tourist looking for everything from hats and totes to bracelets, necklaces, earrings, beach towels and island souvenirs bearing the Stuart and Hutchinson Island name.
Stevenson describes the shop as "bright and cheery," and that's just the feeling customers get when they know their donations will make a great difference in a family's life. She says, "If anyone ever asks me to donate or give my time, especially if it's local, I'm never going to say no. Never."