Embracing the adventure
By Jennifer McEntee
Jolly Dog has weathered many storms over the years while continuing to cater to those who embrace St. John's island lifestyle.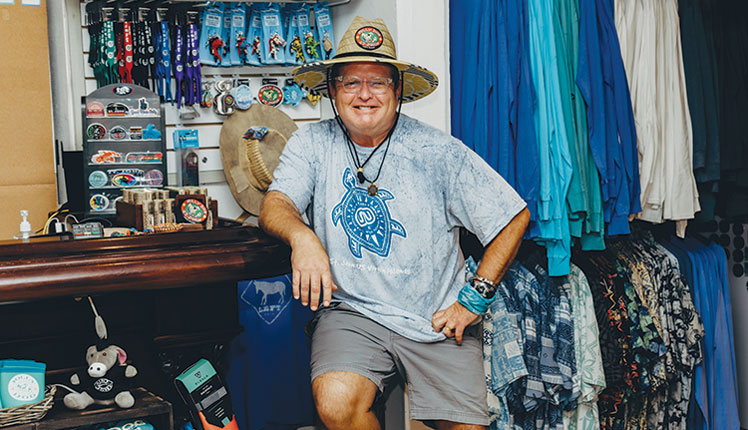 Volcanic eruptions, destructive hurricanes and a global pandemic — Jeff Donnelly has weathered all matter of catastrophes in his quest to live and work in the Caribbean islands.
"It's not a short story," says Donnelly, owner of the retail store Jolly Dog Trading Co. "But there's never been a dull moment."
Originally from Vermont, Donnelly grew up visiting the islands for family vacations.
"It wasn't an accident. I really loved this place and always dreamed of living and owning a store here," he says.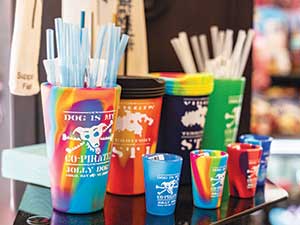 Photos: Sarah Swan

Donnelly lived on the small mountainous Caribbean island of Montserrat in 1995 when the previously dormant Soufriere Hills volcano began to rumble. Two-thirds of the island's population fled as the volcano erupted. Donnelly, who had been working for a family garment manufacturing and screen-printing business, was forced to evacuate on a cargo schooner with his 110-pound rottweiler-shepherd mix Apollo.

They made it to St. John just after Hurricane Marilyn had devastated the U.S. Virgin Islands.

In honor of Apollo's treacherous seafaring voyage, Donnelly designed a T-shirt logo of him: a dog skull and crossbones, his tongue wagging amicably.

He sold Jolly Dog shirts at a store on St. John's Cruz Bay. They were a hit.

"People loved it. A lot of people thought it was a bar," he says.

Donnelly opened his own store in St. John's Coral Bay in 1997, naming it Jolly Dog Trading Co. after the now-iconic shirt design.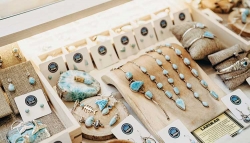 Donnelly has had several Jolly Dog shops over the years, but it's a constant battle against violent storms to keep them standing. His 700-square-foot store in the Isola Shoppes center on Coral Bay was meant to be an expansion of the Jolly Dog franchise. After hurricanes Irma and Maria in 2017, however, the location became the flagship store.

"We're in a really great spot now. It's a secure, concrete building with rolldown shutters," Donnelly says.
The sweet spot
Coral Bay is on the southeastern side of St. John, considered the isle's sleepier side compared with the bustling cruise ship port of Cruz Bay. Two-thirds of St. John Island is a national park so beachfront rental storefronts are hard to come by.
Hurricanes have a way of shifting the retail landscape in the Caribbean islands.
"People come and go. It's like a new start," Donnelly says.
In that way, Donnelly says he's been fortunate to find a good spot that attracts short-term tourists and long-term winter visitors alike looking for souvenirs, gifts and beach gear.
Jolly Dog's merchandise is a mix of clothing, hats and sunglasses, jewelry, sunscreen, drink koozies and housewares. Some have the Jolly Dog logo or St. John imagery, and others are from big-name surf brands such as Quiksilver, Reef, Roxy, RVCA, Billabong and Maui Jim.
As a self-taught graphic designer, Donnelly still does custom design work for Jolly Dog and other local entities. He goes to trade shows and collaborates with screen printers and hundreds of vendors to keep a mix of both new and tried-and-true products available in the store.
"We're always experimenting with new brands and vendors, but we're always geared toward the island lifestyle," he says. "We want a certain caliber. We're about quality."
Jolly Dog T-shirts are consistently his most popular product, but visitors also snatch up gear that celebrates the wildlife of St. John, including donkeys, goats, dolphins and sea turtles.
Recent additions to the store's inventory include long-sleeved SPF shirts in vibrant tie-dye prints; nylon thread bracelets with Coral Bay's coordinates etched into repurposed water buffalo bone; and soy candles in 6-ounce tins with custom-engraved wooden lids.
As you might expect at a place called Jolly Dog, pet collars and leashes are also available. The store sells bottle-opener dog collars made from recycled bike inner tubes by Portland, Oregon-based Cycle Dog.
It's a relatively small retail footprint, so the store is arranged simply by women's, men's, unisex and kids' sections. T-shirts are folded in neat squares; board shorts and swimsuit cover-ups are on hangers, while hats, travel mugs and cutting boards are stowed in tall cubby shelves. Ceiling-high wire shelves are in front of the large display windows, allowing passersby to see the wares inside as natural light filters into the store.
There have been several dogs in Donnelly's life since Apollo, but you won't find his current "jolly dog" inside the store. The 14-pound chihuahua mix named Skippy stays home when he's not balanced on the front of Donnelly's paddleboard in the clear blue waters of Coral Bay.
Riding the waves
Like many in the retail industry, Jolly Dog was battered by the 2020-2021 coronavirus pandemic.
"It's been a game of survival the last couple of years. Storms ruined this island for a while, and we were getting back to [normal] when COVID hit," Donnelly says. "When everybody started getting shut down, we were not exempt."
Donnelly applied for Paycheck Protection Program loans through the U.S. Small Business Administration. He used the closure time to update and improve Jolly Dog's online commerce site and social media channels while also implementing in-store touchless point of sale systems.
"We didn't sit around and bemoan our fate," he says. "We kept moving toward making it better."
That adaptability is at the core of why Donnelly loves his job.
"It's a launchpad to learn all areas," he says, explaining that he's the store's buyer, merchandiser and "guy in the office." "Freedom is what it's all about, but I live or die by my own efforts."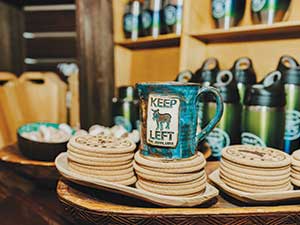 In busy seasons, he might have up to seven retail employees. Staffing can be a challenge; St. John's population is just over 4,000 people.

The supply chain has been hampered by the pandemic, yet travel to St. John has picked up steadily since U.S. travel restrictions have eased. Thanksgiving through Easter is typically the island's busiest for tourism, although Donnelly says June 2021 drew an influx of newly vaccinated tourists to the U.S. territory.
Beach life
While Donnelly's role as store owner means he spends a good portion of his day bookkeeping, he says it's important for him to work behind the counter as often as possible to greet his repeat customers. Some have been coming to St. John for generations and visit Jolly Dog to catch up and restock on beach supplies and favorite T-shirts.
The store is open from 11 a.m. to 6 p.m. every day of the week but closes each September when storm activity peaks.
There are other beach apparel stores in St. John, yet Donnelly says his store appeals to vacationers who stay for a few weeks at a time, maybe rent a Jeep, and truly immerse themselves in island life.
"We have tried to keep our offerings different. It's not something you find in every store." Of the local retail competition, he says: "It's like apples to oranges. We sell in the same categories, but not the same things."
Donnelly says Jolly Dog allows him to have the "work some, play some" way of life he enjoys. He says he's a "water person versus a beach person," taking part in water sports, including snorkeling, kayaking, paddle boarding and swimming. When the weather cooperates, he enjoys taking a power boat out for a ride.
"I never thought I was going to become a millionaire or a billionaire," he says. "This has always been a lifestyle choice. It's a choice I will never regret. Honestly, if you do what you love, you'll never work a day in your life. Find your niche, and the sky's the limit if you put your mind to it."