Testing the sparkling waters
By Jennifer McEntee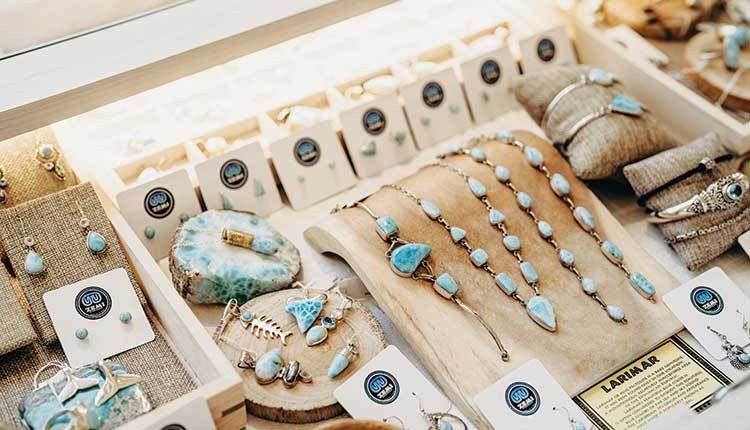 Jeff Donnelly has been in the retail business in the Caribbean for three decades but only recently decided to try his hand at owning a stand-alone jewelry outlet.
"I always dabbled in jewelry at Jolly Dog, and I was intrigued," Donnelly says.
When a 200-square-foot niche became available across the walkway from the flagship Jolly Dog's store at Isola Shoppes on Coral Bay, he took the chance.
"It wasn't that hard to leap to that even if there's been a learning curve," he says.
Zemi Island Designs opened in February 2019. It's the only jewelry store in the Coral Bay area. Zemi refers to an ancestral spirit of the indigenous Taino people of the Caribbean.
Though narrow, the space has a wall of storefront windows that face the shopping center's sunny patio and waterfront bar.
Donnelly seeks out handmade jewelry pieces with unique shapes and quality craftsmanship by talking to local jewelry makers and attending trade shows. He also gets input from his wife, Tammy, who's a St. John real estate agent with an eye for good design.
Signature pieces at Zemi include hook bracelets, which have been a symbol of the Virgin Islands for eons. The sturdy metal bands have "U" or "J" shaped closures and often bear petroglyph-like designs, akin to those carved into rock by the Taino. People wear them alone or stacked, the direction of the hook said to signify the wearer's relationship status.
Zemi carries necklaces and bracelets adorned with larimar, a swirly light-blue stone only mined in the Dominican Republic. There are also abalone shell earrings, semiprecious gemstones caged in sterling silver and statement rings like a massive purple geode set in silver and a cultured pearl enwrapped in an ornate octopus design.
Zemi jewelry is available in gold, silver and copper metals, and the themes are most often nautical or represent local wildlife — like earrings or bracelet charms shaped in the image of St. John's ubiquitous wild donkeys.
Donnelly features as many locally made pieces as he can in the store and online and an eclectic mix of handmade and fair-trade accessories from beyond the islands.
"Up until recently, we traveled the world looking for unique things," he says.
Once pandemic restrictions on international travel are more relaxed, he hopes to cast his treasure-hunting net more widely.