Unique exteriors: Taking a bite out of tourism
By Jennifer McEntee
Coined as the shark bite capital of the world, Daytona Beach is the home of Big Shark.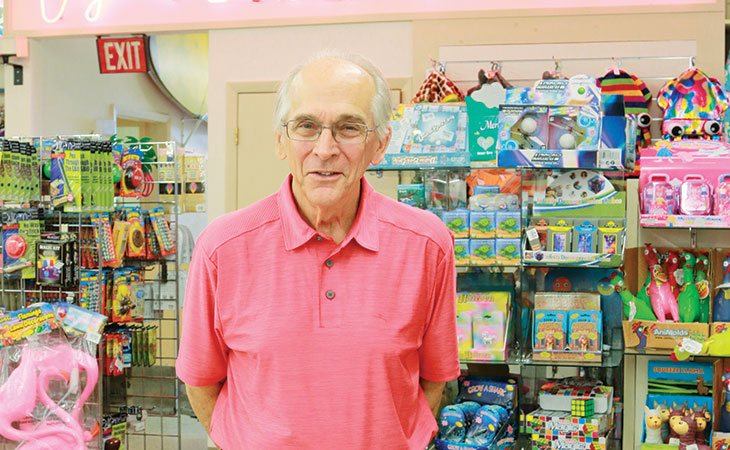 Tim Pace recently came across a black-and-white photograph of his souvenir shop from 1960, when his in-laws Cecil and Juanita Stephens first bought and adorned the building. In it you can see Daytona Shell & Curio Shoppe's oval facade curve out like a fishbowl toward North Atlantic Avenue.
Neon-tube signage and fish shapes swim along an underwater mural of seashells and starfish. Real palm trees peek out above the entry courtyard and a covered driveway points to the parking area located behind the store.
Pace and his wife Celia took over the family business in 1979. They've remodeled and reworked the store many times over the years and have always put their best face forward to lure in beach-bound customers.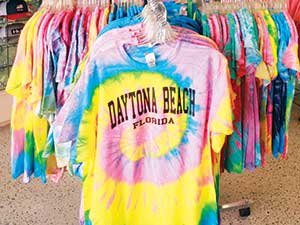 Photos: Michael Rollins
"The storefront has the same shape but different decoration," Pace says.
The assortment of merchandise has changed as well over the last 61 years. "In years past, we had huge piles of seashells," Pace recalls. "We still sell plenty of shells, but the business has evolved."
Now called Big Shark, the 13,000-square-foot store capitalizes on Daytona Beach's dubious distinction as the "shark bite capital of the world."
"We're known for sharks in our area," he says. "There are a lot of surfers and a lot of sharks."
The facade now includes large, three-dimensional shark reliefs cast of fiberglass. One of the sharks swims along the front side of the store front while the other two sharks burst out of painted ocean waves on either side.
Reminiscent of the original storefront, the sign reading "Big Shark" is lit up in neon letters.
At ground level, the Pepto-pink entryway includes two full-sized statues irresistible to climbing kids and selfie-taking tourists: a dolphin and a manatee.
"It helps us stand out along our strip of the (State Road) A1A," says Pace, noting that the design went through an extensive city review process. "It helps people remember where they've been."
Shark sightings
While seashell holiday ornaments and home decor still have a beloved place in Big Shark, the store's merchandise has shifted with the tides. Sharks are prominently featured on coffee mugs, key chains and apparel. Fossilized shark teeth embellish jewelry.
"It's given us a theme," Pace says of the shark motif. Big Shark's mix of souvenirs also includes dreamcatchers, beach bags, children's toys, bodyboards and books. Recent inventory additions include tie-dyed face masks with "Daytona Beach, Florida" imprinted in block letters.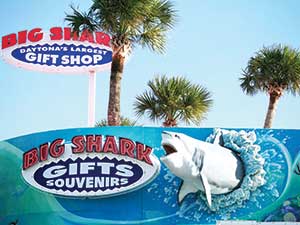 They also sell shirts, ballcaps and drink insulator sleeves printed with imagery for local events like Daytona Beach Bike Week and NASCAR races.
Daytona Beach is also a popular spring break destination. It doesn't hurt that Big Shark is across the street from beachfront hotels and condominiums.
Beach life
Big Shark's prime location comes with its challenges. Florida's salty air means the painted outdoor art needs routine upkeep, a task made more difficult by the sharks' lofty perch. "They're 20 feet off the ground. I can't just hose them off," Pace says.
Hurricanes are a perennial threat. The glass storefront windows can be closed behind reinforced floor-to-ceiling storm shutters, while Big Shark's sculptures were made to withstand the harsh winds, according to Pace.
"We didn't want to find them in the parking lot," he says.
Big Shark bills itself as Daytona's largest gift shop. Its online presence is minimal, with a website, listings on Tripadvisor and Yelp, and a Facebook page with about 600 followers. But Big Shark doesn't need all that social media to thrive. Like it did in olden days, the store benefits from its busy tourism locale, an ample parking lot and a dramatic storefront design.
Pace says the venerate store enjoys many repeat customers, many of whom have been vacationing in Daytona Beach since his late in-laws owned Big Shark.
"Other stores in our area are decorated, but none like ours. We're the 'shark store,'" says Pace.