Store mascots: Pandemic puppy love
By Jennifer McEntee
Rock Paper Sistas' dog Finn brings joy and fun to the shop.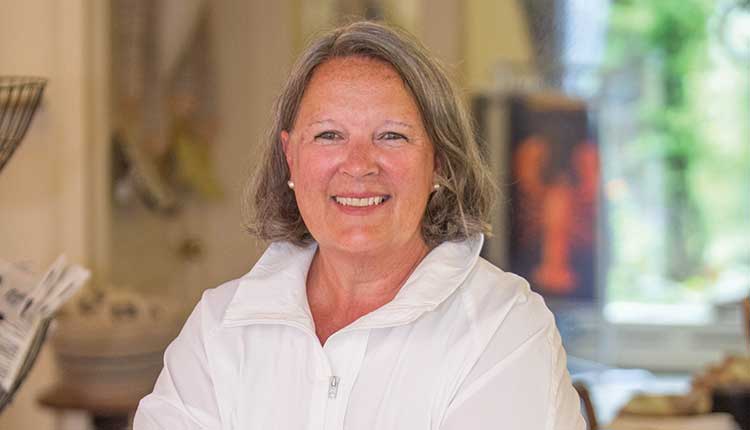 Paula Jean Burns, resident artist and owner of the boutique, Rock Paper Sistas', credits a stuffed animal with bringing shop dog Finn into her life.
After a career in the corporate world and raising three children, Burns turned her family's artisan pop-up shop into a brick-and-mortar retail business called Rock Paper Sistas' in 2017. She had long wanted a yellow Labrador to join her in the shop, but after years of searching, the closest she came was a stuffed yellow Lab prop for a holiday window display. She named it Nellie.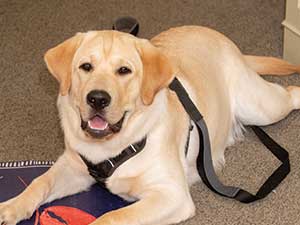 Photos: Catherine Kernan
Soon after acquiring Nellie and amid the coronavirus lockdown, Burns saw a woman walk by the store with a Labrador puppy. She introduced herself to the woman who connected her with a local breeder who had a new litter of three-week-old puppies.
"I firmly believe Nellie helped us manifest Finn," says Burns, who fell in love with Finn at first sight.
Now just under a year old, Finn has become a popular fixture at Rock Paper Sistas'.
"Had I ever known what his presence would do at the shop, I would have gotten a dog right away," Burns says. "Finn is a special guy and has added so much fun, love and laughter to the shop."
Burns quips that Finn is both an ambassador of community connection and a retail therapy dog in training. His puppy dog eyes welcome Rock Paper Sistas' visitors into its retail space in-person and online.
"I liked the idea of having a shop dog to sit on the floor near the desk with me," she says. "Never in my wildest dreams would I have thought he would be so popular."
New England charmer
The coastal shop is in an 1850-built yellow house alongside Connecticut's historic Guilford Green, a park-like town center with mature trees and war memorials. Rock Paper Sistas' storefront beckons with colorful flower pots, white Adirondack furniture and Finn lounging on the shop steps.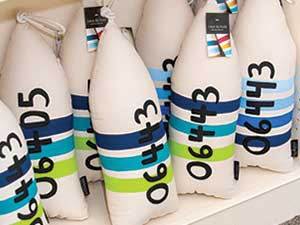 "His favorite place to sit is on the steps. He's an enticement," Burns says. "He's so cute and playful."
Finn is friendly with people and pets alike, his sweet disposition inviting passersby into the store. Burns says visitors often sit on the floor to stroke his head and talk about the store's offerings, their own dogs back home or pets they had growing up.
"That then becomes a connection," she says. "He's brought such joy to so many people."
Burns stocks the store with handmade, small-batch, coastal items for "her, him, heart and home." Along the classic white shelves and display tables are pillows and doorstops that look like boat buoys, table runners printed with coastal charts, sea glass garland, tabletop silhouettes of whales made from reclaimed wood, wreaths fashioned from natural rope and mussel shells, lobster platters and salt scrubs.
The jewelry, lotion, candles, wall art and handmade cards are all designed to give visitors a unique memento of the New England coastline.
Finn's presence has encouraged Burns to expand her in-stock pet supplies, as many of her patrons are dog lovers. She sells handmade rope leashes and sea salt-flavored dog biscuits. "For so many people, their pets are their companions. We're a walking community, so when people want to get out, they bring their dogs with them," she explains.
Good boy, Finn
Burns' family has hosted a menagerie of pets over the years, including dogs, cats and guinea pigs. When it came time to find a dog breed that would work well in a retail setting, she knew Labradors were intelligent, even-tempered and gentle.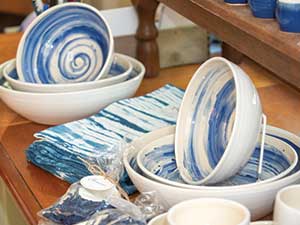 Finn has all those traits and more. Burns has been bringing Finn into the shop since he was a puppy, familiarizing him with children, wheelchairs and walkers, and city noises like firetrucks and festivals. With some basic training, he's affable and unflappable all day long.
"His personality is heaven-sent," she says. "He's what I was hoping for."