Rugged Seas raises $60,000 for families of fishermen lost at sea
By Kristin Ely
Proceeds from the sale of more than 4,000 shirts went to families of Emmy Rose crew.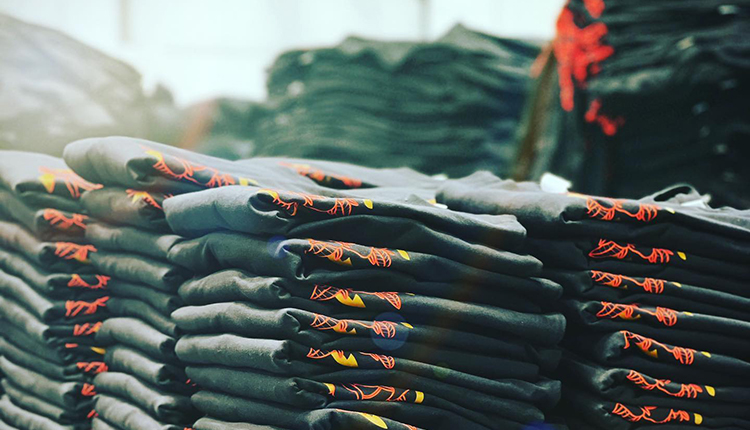 When the commercial fishing boat Emmy Rose went down off the coast of Provincetown, Massachusetts, in November 2020, it was a difficult time for the fishing industry. Four fisherman from the Portland, Maine, area lost their lives as a result of the vessel sinking.
For Nikki and Taylor Strout, the owners of Maine-based Rugged Seas, it hit close to home. The couple's business has been a tribute to fisherman and the tough conditions they endure. The company makes an entire line of totes, backpacks and clutches from the fishing bibs these strong men wear on the job. The fisherman donate their used bibs to the company for use in these colorful and durable bags that represent all the harsh environments fisherman work in.
"Our goal is to take something that represents every fishery—fisherman's hauling pants (bibs)—and turn them into something recognizable, for everyone to utilize and enjoy," says Nikki Strout.
So when the Strouts learned of the vessel sinking, they wanted to do something to help.
"It was really sad and tragic. A lot of them had young children," says Nikki Strout of the victims.
The accident occurred Nov. 23, 2020 just before Thanksgiving. As the Strouts were cleaning up from their Thanksgiving dinner, they thought about the families who had just lost their loved ones in the accident. They decided right then that they would give all the proceeds from any of their Gulf of Maine labeled apparel that sold over that weekend to the families. That effort alone raised $6,500.
"And we thought wow, that was way more than we thought, so we decided to work with our printing company and we designed a shirt that was specific to the Emmy Rose, the name of the boat," says Nikki Strout.
Rugged Seas ended up selling 4,000 shirts from customers pre-ordering online.
"It was incredible. I mean it was so emotional. It was just amazing to see people come together and want to be part of something bigger," says Nikki Strout. "We raised almost $60,000 for these families."
The fundraiser not only helped raise money, it also helped further Rugged Seas mission of raising awareness about how dangerous the fishing profession is.
"People from all over the country were just wanting to help in any way they could," says Nikki Strout.