Bring out the best for the beach
By Jennifer McEntee, Kristin Ely
Offering the right accessories will help you make a day in the sun even more enjoyable for your customers.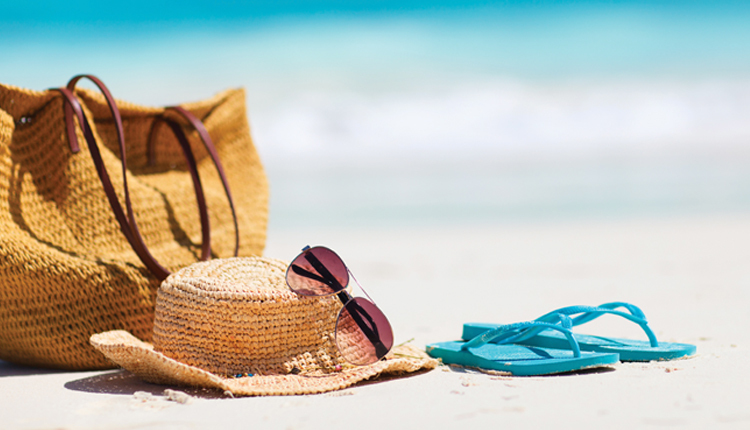 Durability, innovation and environmental conservation are just some of the qualities customers look for when shopping for beach accessories at Island Beach Gear in Ocean City, N.J.
"Quality is the No. 1 consideration, but our dedication to our marine environment is a foremost thought," said Brent Burke, general manager of the 10,000-square-foot store that specializes in hard-to-find beach items.
Burke said he and his team want to make sure customers have access to the best finds on the market for their visits to the seashore.
"In the Amazon.com world we live in, we're always looking for unique products that are vetted really well," he said.
Turkish towels, accessories that change color and shark repellent all meet that standard. But Burke says sturdy beach chairs, carts and umbrellas that last from season to season are among his biggest sellers.
Beach chair brands such as Telescope Casual Furniture, Lafuma and GCI Outdoor offer lightweight, ergonomic chairs of quality materials and construction, Burke said.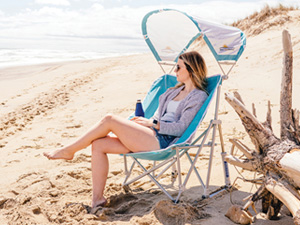 "Some of these will last you 10 years, easy," he said. "I've had people come in with fabric patterns I haven't seen in years; they've lasted that long."
Families who need to tote surfboards, umbrellas, beach bags and toys from the car to the seaside often rely on beach carts. Burke says Wheeleez-brand foldable, powder-coated beach carts have soft, inflatable tires that easily traverse sand.
Shade is essential as people learn more about the risks of sun-damaged skin. Burke said his customers have been pleased with Frankford-brand acrylic umbrellas and Mikes Spikes-brand umbrella anchors.
For sun-protective clothing, Burke said Coolibar's lineup of UPF 50+ shirts, hats and swimwear is an option. And for sunglasses, Island Beach Gear offers Unsinkable Polarized glasses that float when they fall in the water.

Beyond the ordinary
One of the most essential items for a day on the beach is, of course, a towel. And many of the towels coming to market today are anything but ordinary. Popular in Europe, Turkish towels are gaining traction with customers in the U.S. because they dry quickly and sand shakes off easily.
Havlu Sport Turkish towels, made of 100% Turkish cotton, dry much more quickly than terry cloth. The reason, said Havlu owner Dianne McGee, is that when Turkish cotton is woven it creates long joints that leaves pockets of air for the thread to go through. But terry cloth, which is more tightly woven, retains water. "They are very absorbent and the more you wash them, the softer they get," she said of the Turkish towels.
But are beachgoers ready to ditch their terry towels for the Turkish variety? "As soon as they try them, they are totally converts," McGee said.
Another company, Beachables, sells a multifunctional beach accessory that converts from a tote bag to a beach towel. With custom embellishments, a wide array of colors and patterns, and a choice between terry or Turkish cotton, Beachables are gaining popularity at high-end resorts and boutiques. They're also being ordered by bridal parties and with company logos for promotions, said Beachables founder Mary Watters.
"Right now, our Turkish beach bag is probably our most popular. It can go from tote to towel, and it goes over a chair because of the way the pockets fit. It's going to stay put," Watters said. "Plus, since its Turkish cotton, it's lightweight. It can be an airplane carry-on or a nice, big, beautiful beach bag."
But terry cloth lovers need not fret. A to Z Towels has something for them that will make a day at the beach easy to share with a significant other. It's a 58-inch-by-74-inch towel for two with a gsm (grams per square meter) of 400. That translates into softness. A to Z also offers a round towel that measures 63 inches across.
And that's not all the company is up to. "We work hard on customization," said A to Z sales manager Marcel Schneider.
The fringe towel is another style he said is becoming more popular.
Still other towels are performing functions other than drying. Salt n Rays founder Chris LaSalle said she developed her line of sun protective apparel and towels out of necessity.
The towels have an ultraviolet protection factor (UPF) of 50 while the apparel is UPF 40.
"It's polyester with a little bit of spandex," she said. "It blocks all the UVA and UVB rays that would come through a normal T-shirt. A normal T-shirt has a rating of 5."
The towel can be worn as a wrap or a sarong, or just use it to cover the area of the body you want to protect: shoulders, legs, etc.
"Some people put it on their heads," LaSalle said. "Wherever you want to wear it, it will protect you from the sun."

Using the sun for fun
But the sun can also provide some fun. And what's more fun in the sun than accessories that change color when exposed to ultraviolet light? An array of products that change color when you go outside can add pizazz to any summer wardrobe.
All of Del Sol's 10,000-plus products are made with inks and dyes that turn different colors when exposed to sunlight thanks to proprietary Spectrachrome technology.
Del Sol, which is based in Sandy, Utah, is one of the most highly promoted merchants on major cruise lines such as Carnival, Princess and Disney. In addition, its apparel and accessories are sold in its retail stores and by more than 1,000 wholesalers worldwide.
Jill Peck, senior wholesale account manager for Del Sol, said two of the company's top-selling product lines are its Solize-brand polarized sunglasses and a new outer space-themed nail polish collection.
Solize sunglasses are available in more than 70 styles, with aviator, sport and fashion looks. The lenses stay the same tint, while the frames change color when exposed to the sun. The style Charmed Life has a clear tortoise-pattern frame without sun that turns blue in the sun.
The new nail polishes come in matte, shimmer and glimmer finishes with fun names like Supernova Dreams, Lost in Space and It's Rocket Science. Another shade, Area 51, transforms from matte gray to plum when the sun comes out.

Safe and sound
If flashbacks of the movie "Jaws" are keeping someone from enjoying the beach, then Shark Off may be just what the doctor ordered. Shark Off's shark-repellent surf wear jewelry is described as "kryptonite for sharks."
Beads on the knotted-leather Bimini bracelets are made of a proprietary alloy that emits a 1.4-volt electrical field when submerged in water. Sharks and stingrays find the electricity irritating enough to swim away, said Geoff Geist, chief operating officer of the Overland Park, Kan.-based Shark Off.
Donning the jewelry provides peace of mind to those in the water, Geist said.
Skeptics out there can watch a video of sharks being repelled by Shark Off at www.thesharkoff.com.
The ideas for enhancing the beach experience are endless and range from functional to fashionable. A customer might be looking for any of the above or anything in between. Being able to offer that new, interesting, helpful or colorful beach accessory can make your beach store a lifesaver. ■