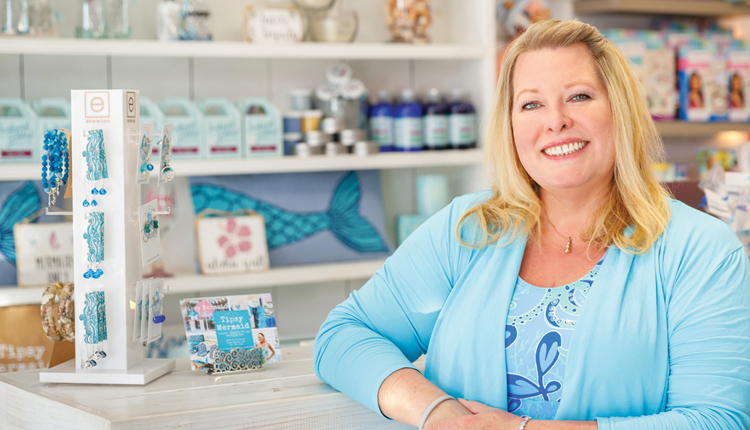 Winner: Tipsy Mermaid Mercantile
Location: Palm Harbor, Florida
Owner: Angela Cox
Committed to the community
When local nonprofits reach out to Tipsy Mermaid Mercantile, Angela Cox springs into action. Cox, the owner of the resort wear, coastal gift and home decor store, knows exactly which items will create a buzz at a raffle or silent auction. Her gift baskets have raised more than $2,000 in the past year for schools, clean water organizations and the local YMCA.
HOW SHE GIVES BACK

And these are not your ordinary gift baskets. They are full of items only someone like Cox, who has an eye for appealing coastal items, could create. One such package included custom pillows with the benefiting elementary school's latitude and longitude coordinates on them. She said it was a big hit. Another basket, filled to the brim with pink and turquoise pillows, outdoor signs and drinking cups, generated much interest for the YMCA's annual fundraiser.
In addition to donating extraordinary baskets, Tipsy Mermaid Mercantile supports PARC, a local nonprofit that benefits children and adults with intellectual and developmental disabilities.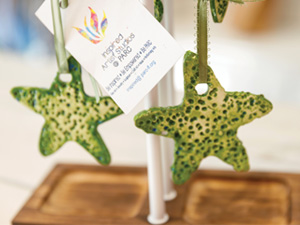 BEYOND BASKETS

PARC has a ceramics division, and Tipsy Mermaid Mercantile sells starfish ornaments made by students who take the ceramics classes. Each starfish includes the artist's name and tells a little bit about what PARC does. The ornaments retail for $6, and the best part, Cox said, is that all the money goes toward living expenses of the artist.
"We can't keep them in stock," Cox said.
Her 6-year-old daughter attends The dePaul School for Dyslexia, and Cox is a board member. In the future, she hopes to use her retail skills to do more good so the school can help more kids learn to read. ■
Starfish Awards, inspired by the parable of the starfish, recognize companies in our industry that are making a difference through charitable donations and efforts. Submit nominations at www.seasideretailer.com/starfish-award.